What is the big train sets for sale?
The big train set for sale is an amusement train with a large capacity, and it is usually used outdoor. Certainly, it consists of a cute and attractive locomotive and three or four carriages. And its carriages has comfortable seats, colorful painting, colorful lights. Because of its beautiful appearance and design, the big train fun ride is more and more popular with adults and kids. Children can have a good time with their friends by riding the big train ride for sale. While adults can relieve their stress in life and works by riding the large train set for sale. Additionally, we can provide you large train sets with large capacities, including 24 seats, 40 seats, 70 seats and so on, and we also customize trains with different capacities for you.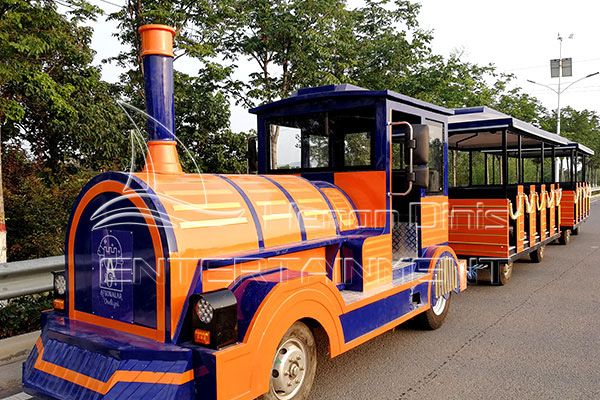 Besides, large scale train sets for sale have some styles for you to choose, such as big tourist train for sale, Thomas large train ride for sale, big steam train for sale, big ride on train for sale, Christmas train ride big for sale and so on. Then, above mentioned themes of big train sets for sale are made track and trackless. Moreover, our large train rides also have two drive model: electric power and diesel power. And above styles of large scale train sets are powered by electric or diesel. So you can use our electric big train products or big diesel train rides in any areas: amusement park, theme park, playground, farm, garden, scenic spot, tourist resort, fairground, farm etc.
---
Which one is more convenient for you to use, the big track train or the trackless big train set?
With the development of society, amusement rides are more and more attraction, especially big track train and large trackless train. Moreover, both large track train ride and big trackless train are convenient for you to use, because track large train and large trackless train can be used in some areas.
1. Using track big train set for sale in the theme park.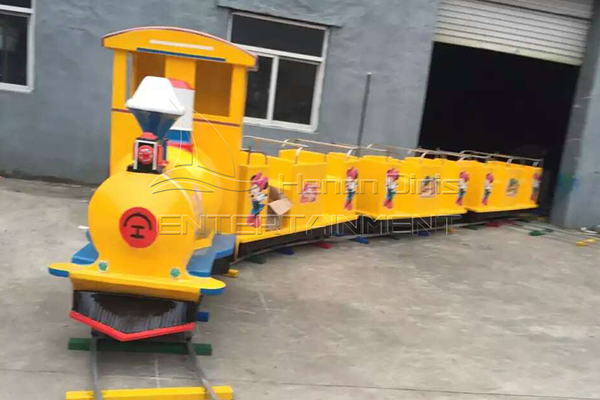 Specification of big track train ride:
Name: big track train
Material: FRP+steel, wood,
Capacity: 16 seats (you can customize)
Applicable people: all ages
Power: diesel, electric
Composition: 1 locomotive+3 Cabins
Power: 1-5 kw
Running speed: <2m/s (you can adjust)
Theme: customize
Length of track: customize
Although big track train rides need to lay a rail in the theme park, the big train track don't occupy more places. Additionally, we customize your track length. If you combine big trains for sale with some fixed region, it can't occupy more areas. For example, Fantawild adventure theme park, one of famous theme parks in our country, combines our big track train with a world protection-war view. So people can ride the track train in the specialized rails to take part in the protection-war, and they will feel thrilled and interested in the area.
So you can use the big track train in your theme park to let more people have a fun and thrilling experience. But if your theme park is large place for 3-15 ages, you can buy and put carousel, slide, flying chair, trampoline, bumper car, coffee cup, inflatable castle, train rides in your park. Because those amusement sets are popular among kids, you can make more money.
---
2. Trackless big train sets for sale can bring people to enjoy scenery in the tourist resort.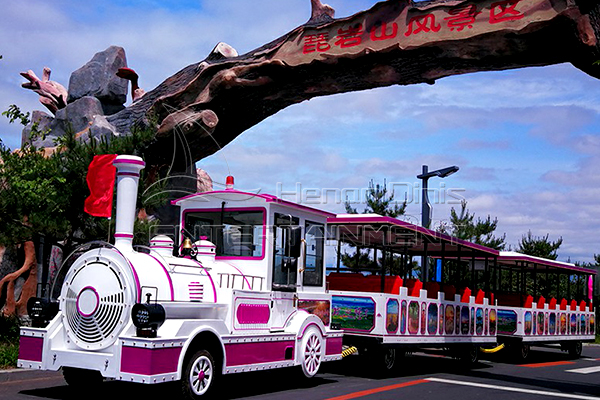 Specification of big trackless train ride:
Name: big trackless train
Material: FRP+steel,
Capacity: 42 seats (you can customize)
Applicable people: all ages
Power: diesel, battery
Composition: 1 locomotive+4 Cabins
Turning radius: 8m
Locomotive size: 4*1.6*2.2m
Cabin size: 4*1.8*2.5m
Theme: customize
Our big trackless train ride don't have a railway and it can't need a fixed area. So you can freely drive it to bring people to visit in your tourist resort. When it runs in the forest of tourist resort, it can bring people to see beautiful nature views of your tourist resort. So people who visit your resort will have a good time by riding train ride to enjoy scenery, and more and more people come to your tourist resort. Certainly, it can not only be used to bring people to visit, but also be an interesting kids entertainment equipment to bring children more funny.
Additionally, you can use our track large train sets for sale and trackless big train sets for sale in some other areas, including amusement park, funfair, farm, scenic spot, garden etc. Certainly, if you also want to buy other amusement rides to put your parks, we provide you Ferris wheel, amusement park carousel, amusement park bumper car, amusement park pirate ship, self control plane, amusement park tea cup ride, amusement roller coaster ride, amusement park flying chair, etc. So we believe wherever you use large track train, trackless big train, and other funfair rides, these fun rides bring you more benefits.
---
Electric big train set and big diesel train ride's specification:
| Name | Drive mode | Power | Composition | Capacity | Materials | Battery/Diesel storage | Running time |
| --- | --- | --- | --- | --- | --- | --- | --- |
| big electric train ride | battery | 12kw | 1 locomotive + 3 cabins | 40 seats | FRP, steel | 12pcs 6v 200A batteries | 8-10 hours |
| diesel big train ride | diesel | 75kw | 1 locomotive + 3 cabins | 40 seats | FRP, steel | 60L | long time |
---
Top 4 selling big train rides in our company
1. Big Thomas train ride for sale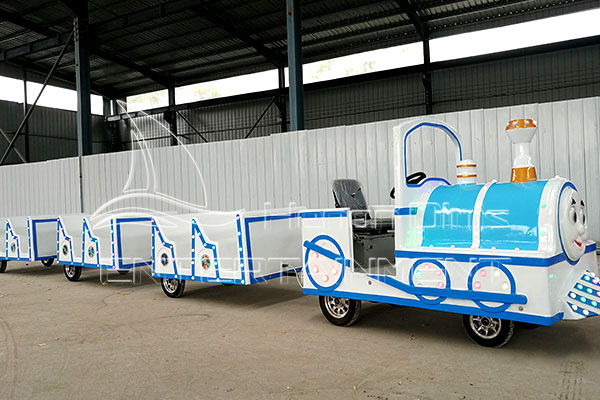 Big Thomas train ride for sale is one type of amusement trains with a classic Thomas tank engine. Because of Thomas and his friends series, we design Thomas train ride for children. So our big Thomas train quickly becomes a popular amusement ride among children. So whether you use it in the amusement park or holiday activities, you can use it to earn more money. Besides, we can also provide Thomas big train electric sets and diesel big Thomas trains for you to choose. Furthermore, our electric Thomas big train ride for sale uses 12 pieces 6V 200A colloidal batteries. So it can run for a long time at full charging and it charges quickly. You can buy our Thomas train big rides for sale according to your needs.
---
2. Big tourist train for sale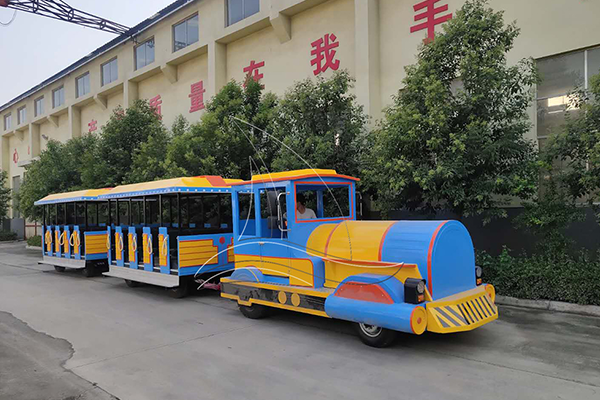 With the increasing of living standard, people like to travel in their spare time. So our company design the big tourist train for people who like to travel. Moreover, our big tourist train is a classic road train. It has one beautiful locomotive with some colorful LED lights and three large cabins. Besides its every cabin is half-closed, so tourists can ride on it to go sightseeing along the road. Moreover, our tourist large train has big capacity, so every time more tourists ride on it. Although there are a lot of tourists in some scenic areas in the peak season, you also use our large tourist train. When some tourists too tired to go the next scenery area, our train transports them to go.
---
3. Large train set Christmas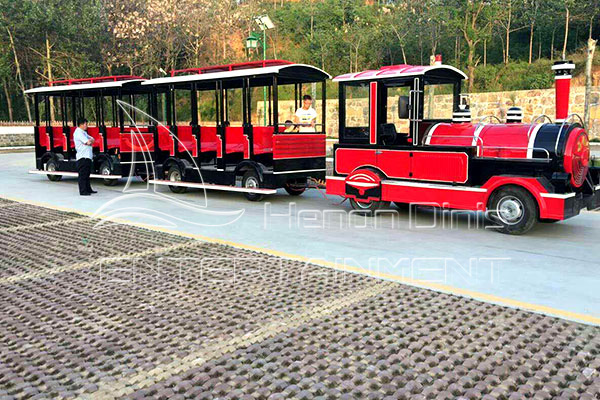 As one of hot selling trains in our company, the Christmas big train ride for sale has a special character. Its locomotive is red with some lights, and its coaches have some Christmas decorations, including snowman, green trees, and gift boxes. Besides Christmas big train's car roofs is as white as snow. So Christmas big train sets for sale are quickly popular by virtue of its beautiful appearance with some decorations. In the western, the Christmas is a giant and traditional festival for everyone. So everyone goes out to celebrate the festival in the street or other carnival areas. Then, if you want to make money at the Christmas, large Christmas train is the best choice for you. But if you want to expand your business in the Christmas, you also buy our Xmas carousel, and other Christmas themed rides.
---
4. Big steam train for sale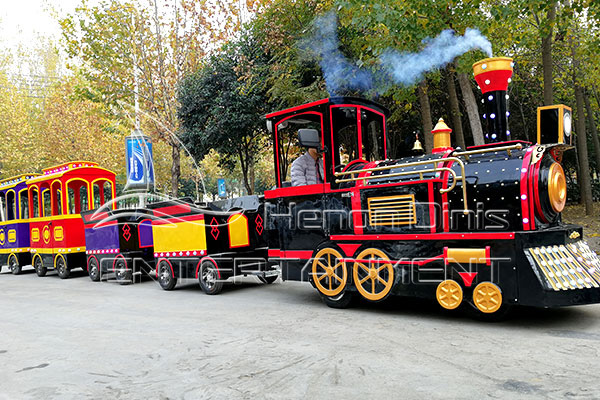 Big steam train for sale is a new type funfair ride. Steam big train has a vintage locomotive with an analog steam engine and three half-closed couches. When steam large train for sale runs on the ground, it puffs out smoke. Due to the large steam train puffs out smoke, it will appeal to more people, especially adults. For example, adults can accompany their children to ride the steam large train, which makes kids happy. It also make children know about some ancient histories through the large steam train. Certainly, smoke of our large steam trains is very safe for people. Because we use the non-toxic and harmless smoke, adults and kids ride large steam train without worry.
---
Why can our company become a top big train sets manufacturer?
It is very difficult for many companies to be a top big train amusement rides manufacturer. Because the company needs to have high quality large trains, enough production experience, and top production technology, and innovative spirit in train sets.
1. Our company has many high quality train big sets.
Why can our company product all kinds of high quality big train sets for sale? because we use best FRP and best steel to make big trains for sale. Additionally, we use best oil paint to draw large trains. When it comes to drawing a paint, we also build a specialized painting room. Our company ensure that big train rides for sale have a good bright and perfect appearance in specialized painting room.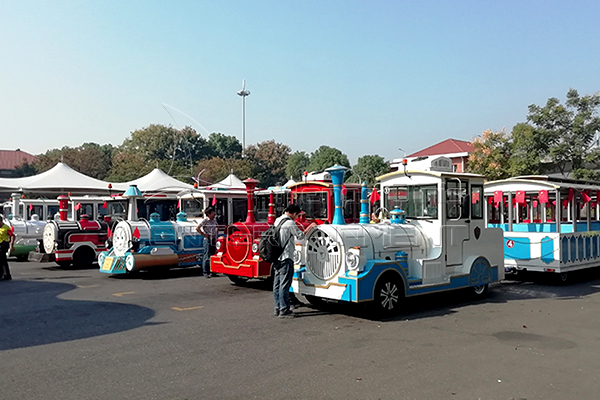 2. Our company is a big and powerful company with 20 years production experience.
Both our company and our product workers have enough production experience. Since our company is built, our company products so many large train sets and other amusement ride (Ferris wheel, flying chair, carousel, rainbow slide, trampoline, bumper car…..) for clients. So we have enough production experience in trains and other funfair rides. Besides, our workers have trained by professional people every year, so you believe us forever in our production process.
3. Our company pursues innovation in large train sets.
Designers and technicians in our company have a innovative spirit. For example, designers always try to design some new theme large scale train sets for sale. While technicians continue to innovate technology in order to make high quality large trains for sale in a short time. Due to our company have enough production experience and skilled technicians, we product some high quality big trains for sale. Then, we quickly become a top big trains manufacturer. Besides, we also provide you good pre-sale service and after-sale service, so you can believe us forever.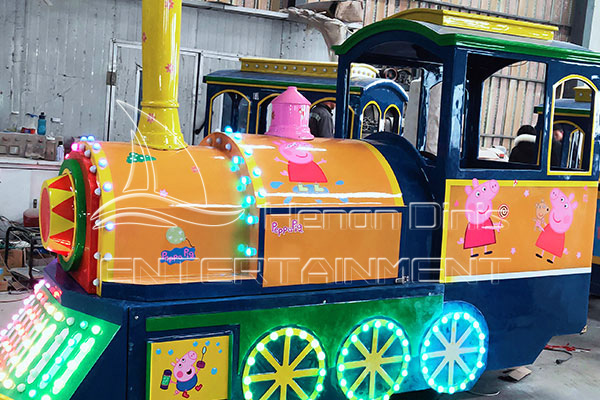 What's more, if you order our big train rides for sale now, we give you a discount price. But if you don't want big train amusement sets, we provide you small train rides, luxury train, sightseeing train, electric train and so on. Furthermore, if you buy other funfair rides, our company also sell other amusement equipment. Because our company is a professional manufacturer, which products all fun rides: bumper car, train rides, coffee cup ride, trampoline, flying chair, carousel, slide, pirate ship, etc.