Zhengzhou Dinis Amusement Equipment Machinery Manufacturing Co., LTD is a professional supplier with 20 years' exporting and producing experience. So far Dinis company has manufactured drift electric bumper cars for baby. There are also indoor electric bumper cars for sale if you customers want to use the dodgems indoor. What's more, for adults, our adult size electric bumper cars are perfect for you. If you have any demands for electric bumper cars for sale, welcome to our factory to visit. Today we Dinis will tell you some details about the electric bumper cars for sale.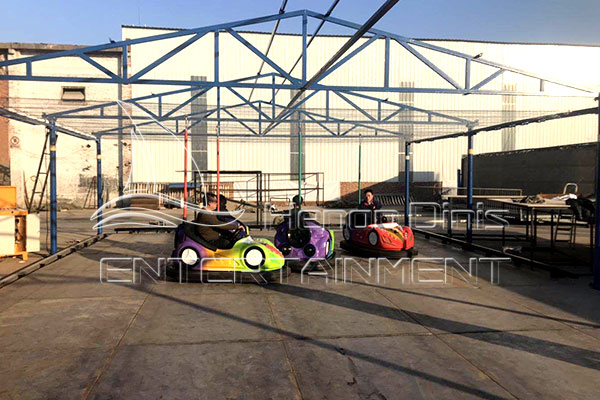 ---
The Top Selling Electric Bumper Cars in Our Company
In Dinis, the electric bumper cars can be classified into three kinds such as battery bumper cars, ceiling grid bumper cars and ground net bumper cars.
1.The battery bumper car is suitable for any surface (including concrete sites, ice sites, etc.) and is flexible in operation. The battery bumper car gets power from the battery and all devices form a complete circuit in the battery -operated dodgem car's body. What's more, this kind of battery powered bumper cars can also has two kinds such as inflatable bumper cars and rubber-bumper dodgem cars.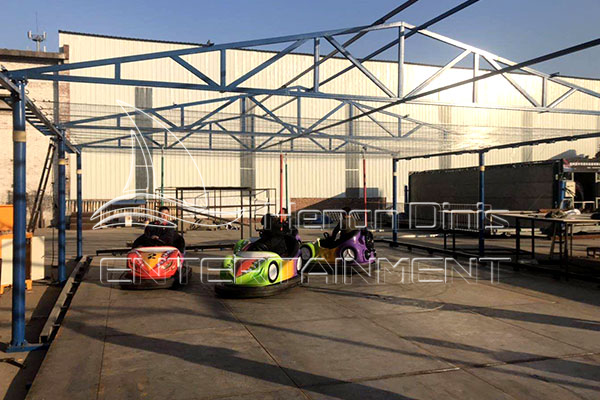 Ground grid dashing car specifications:
Model number: Bumper car
Name: ground grid cart cars for sale
Material: FRP+Steel
Color: Customized
Voltage: 380 V (48 V for floor)
Size: 1.9*1.1*0.9m
Power: 350 W~ 500 W
Warranty: 12 Months
Passenger: 2 persons
2.The ceiling net bumper car rides are the most classic and common electric bumper cars. In order to run the entire system, it needs to build a ceiling grid and a special floor as the power polarities. All electrical equipment requires an AC supply.
3.The ground grid bumper car is the second generation of electric bumper cars. It does not require a ceiling grid, but requires a floor powered grid. This kind of electric bumper cars has a faster speed.
We Dinis has a professional and technical team in producing the electric bumper cars and Dinis has become a famous brand in China in recent years. If you are ready for a high-quality play equipment with a reasonable price, you can contact with us.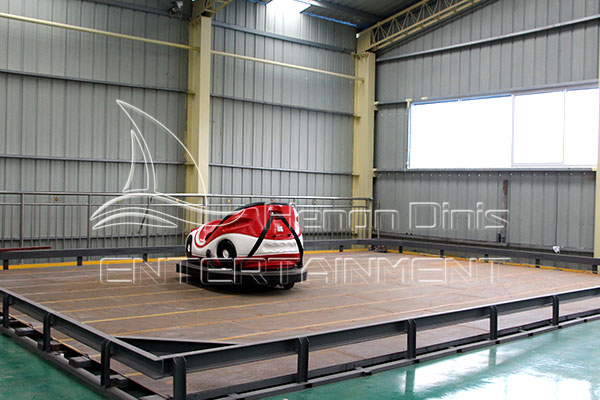 ---
The Right Way to Make the Electric Bumper Cars for Sale Work
These three kinds of electric bumper cars are working in different ways.
Firstly, the oldest electric bumper cars for sale are with conductive floors and ceilings. In order to form a complete circuit to gain energy, the sky net electric bumper cars have conductive parts that touch the ground and a pole to connect the ceiling. Therefore, this type of electric bumper cars requires special locations to operate. Relatively speaking, the cost is high.
Secondly, the electric floor dodgem cars are simple to operate with no ceilings and no poles. Instead, each electric dodgem car has two alternating metal strips that come into contact with the electrical ground to form a complete circuit.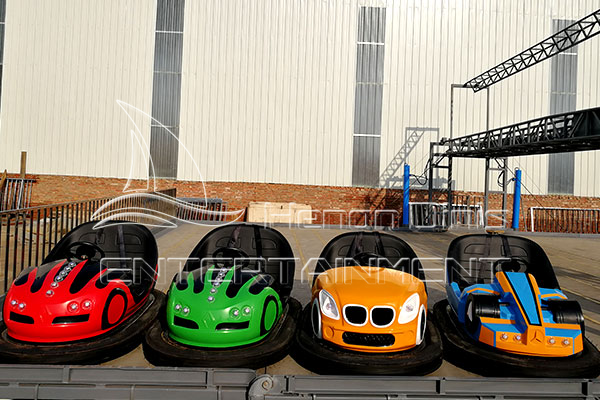 Thirdly, the battery powered dodgem car is the easiest to operate. They don't need the special floor and ceiling to gain power. Furthermore, they can run on any smooth surface and the battery can last long enough to meet the investors' demand.
---
How much would an electric bumper car for sale cost?
The early common electric bumper car is the sky net electric bumper car with a conductive rod behind the dodgem car through the ceiling. But they don't look good. With the changes of the times, the electric bumper cars have also changed. Nowadays, they are mostly ground-grid electric bumper cars with a special conductive ground net laid on the ground. But both the ground net electric bumper car and the sky net electric bumper car have a higher construction cost, and the operator not only has to buy an electric bumper car, but also has to pay a certain fee to lay the floor and the ceiling. In our company, our electric bumper car rides have a reasonable price, and theirs quality are high. So if you want to know the electric dodgem rides' price, please contact with us to get a free quote.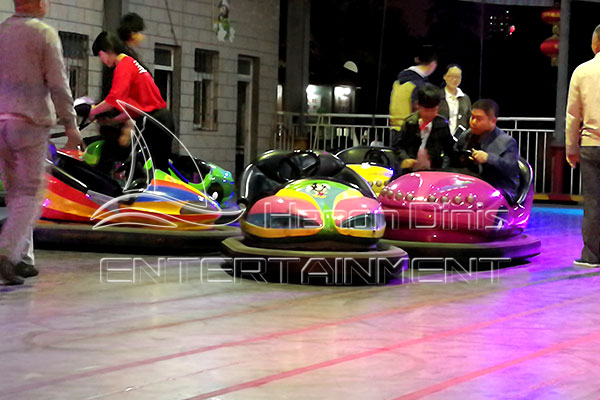 Electrical bumping car specifications:
Place of origin: Henan, China (Mainland)
Brand name: Dinis Fun Rides
Name: Electric bumper cars for sale
Running time : 8-9 hours, including smart charger
Material: FRP+Steel
Color: Customized
Size: 190*115*85 cm
Power: 230w
Warranty: 12 Months
Passenger: 2 persons
And the battery bumper car can be operated on cement, ceramic tile and marble floor with no need to lay the conductive floor and ceiling. With relatively low cost, it is favored by new and old customers in reducing investment cost.
---
The Complete Beginner's Operation Guide to the Electric Bumper Cars for Sale
When you play the electric dodgem car, firstly, you must fasten your seat belt. Secondly, you must control the throttle well, then slow down, rotate the steering wheel, and move back.Thirdly, you can have a perfect reversing. As everyone knows, the electric bumper car does not have a brake system, so how to retreat? You can play the steering wheel in the opposite direction. If you control well, you can perform a gorgeous reversing at the playground. Last but not the least, you can't suddenly go down. When you are playing, no matter what problem you have, you must not stop suddenly, and then walk in the venue, because if you are not careful, you will be hit, then it will be a lot of problems. If you don't want to play, just stop by, don't move and wait for the game to end.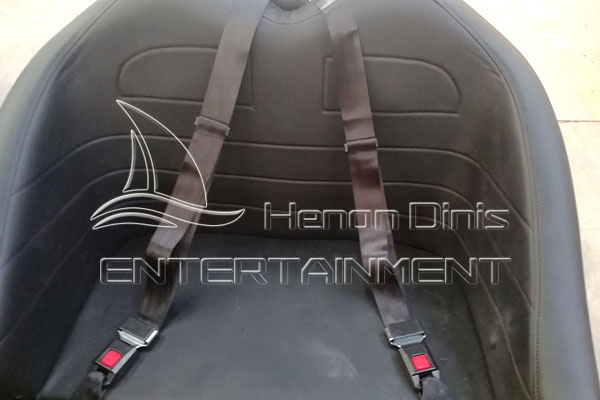 ---
What clients are saying about the electric bumper cars for sale in Dinis?
After several years of development, Zhengzhou Dinis, China has exported the best quality electric dodgem cars for sale to Spain, Australia, Dubai, Canada, Pittsburg, Minnesota, South Africa, Malaysia, Delhi, South Korea, the United States, Punjab and so on.
As a popular amusement equipment, the electric dodgem car amusement equipment has been well known. In recent years, it can be seen in zoos, amusement parks, parks, squares, circus, fairgrounds, arenas, etc. The best quality electric bumper cars produced by Dinis company are equipped with anti-collision rubber guardrail and their bodies are made of environmentally friendly FRP material, which is more beautiful and more durable. The decorative lights on the body are more beautiful when the electrical bumper car starts. The electronic bumper car is not only for adults to play, but also for children. It has a wide range of customers near me. A client from India once said like this.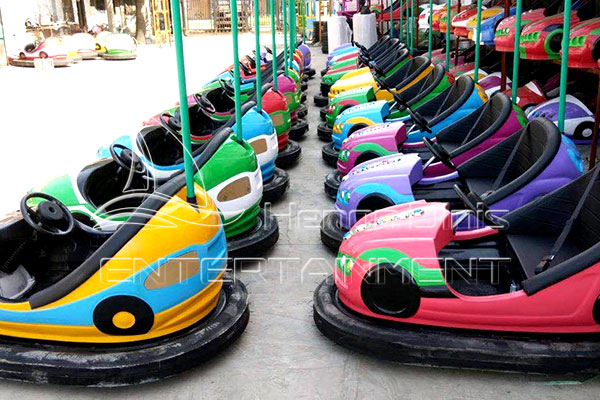 ---
Why do some clients choose Dinis to buy the electric bumper cars for sale?
Recently, Dinis produced a new shape electric bumper car named Minnie mouse electric bumper car. Besides this kind, what's more, you can buy electric car bumper stickers DIY. No matter which kind of electric dodgem car you like, you can choose in our company, for example, electric floor bumper cars for a faster speed, electric inflatable bumper cars for a light-weight experience, electric water bumper cars for summer and child's vintage electric dodgems. Dinis has the first -class service and the best amusement equipment. If you want to build a large playground, welcome to visit Dinis.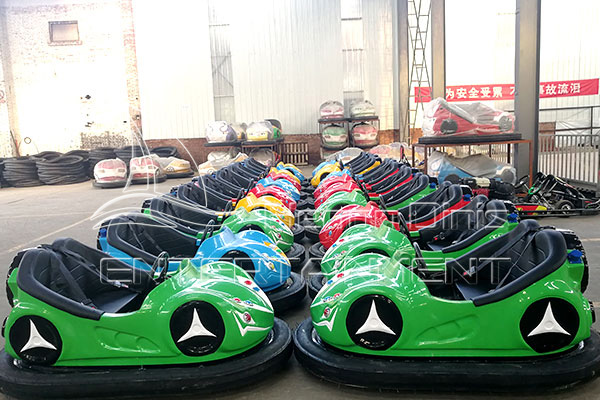 From the development history of the electric bumper car for sale, it will continue to be popular in the future. It can be seen that the bumper car is a lively amusement project! No matter which age group of tourists, they all like this kind of amusement project! What's more, the electric bumper cars have a better development prospect. Especially when the holiday is coming, the business is hotter! In general, the electric bumper cars are a good development project!
---
Ground grid & sky-net dodgem cars technical parameter reference
| Name | Voltage | Speed | Model | Occupied Area | Power | Dimensions | Passenger |
| --- | --- | --- | --- | --- | --- | --- | --- |
| Ground gird&sky net bumper car | 380V | 1.9 m / sec | Multiple models for choice | 15-30㎡/car | 750W/car | 1.925*1.15*0.83m | 2 persons / car or customized |