In our company, there are top 3 sale trackless train rides for sale 2023. Which train rides? 24 seats electric trackless train for sale, 40 seats tourist trains for sale, and 16 seats vintage amusement park trains for sale. Certainly, driven by VRLA batteries, these train rides trackless for sale can run in any places, including amusement parks, children playground, shipping mall, scenic area, etc.
---
24 seats electric trackless train for sale
In our company, 24 seats electric trackless train for sale is one of top sale amusement rides. Driven by 5pcs 12V 150A batteries, our 24 seats trackless electric train ride with 4 cabins is more and more popular. Why? Because 24 seats trackless train ride electric is only charged about 7-9 hours, and it will run 9-10 hours. Besides, 24 seats electric trackless train amusement ride is manufactured by fiberglass, whose appearance is smooth and bright. Thus, these high quality trackless electric train rides with VRLA batteries are suitable for businessmen investment. So if you want to do train ride business, please choose this 24 seats electric trackless train for sale.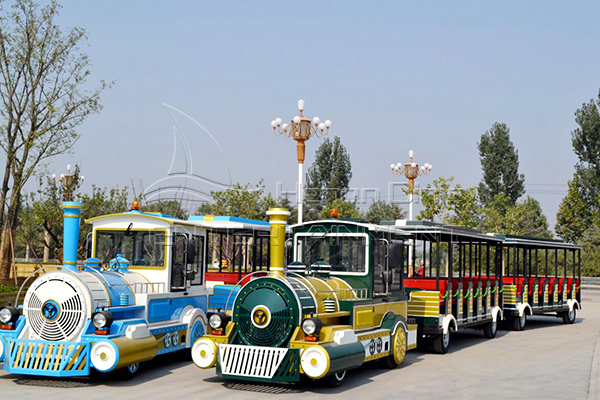 ---
40 seats Tourist trains for sale
Our company also designs and manufactures 40 seats large train ride for tourist. What's more, this sightseeing train amusement ride has two types: diesel train ride and battery train ride. In general, 40 seats diesel train ride has a strong power, which is suitable for your scenic ares as a transportation to transport tourists. While, battery operated tourist train ride with 12pcs 6v 20A batteries is suitable for children and adults, who go sightseeing in the seaside. Thus, if you want to do a business in the large scenic area, seaside, or other places, this 40 seats sightseeing train ride for sale is a best choice for you.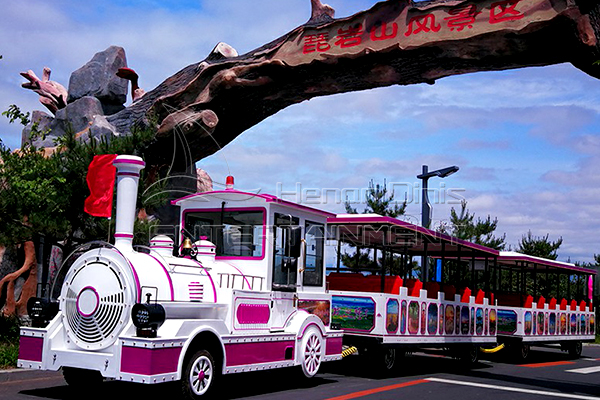 ---
16 seats vintage amusement park trains for sale
Unlike traditional train rides that operate on tracks, 16 seats vintage trackless trains are able to move freely in different directions. Typically, you can use 16 seats antique train ride for sale in amusement parks, shopping mall, fair, school, etc. So when you start a business in the children fairground, the vintage amusement park train ride is suitable. Moreover, due to its antique style, 5mm fiberglass antique appearance, and colorful led lights, vintage train ride with 16 seats will quickly popular among 3-15 year old children in your fairground. As long as children like this trackless train ride vintage, they will spend long time to stay in your funfair. Then, your children amusement park will have a good return.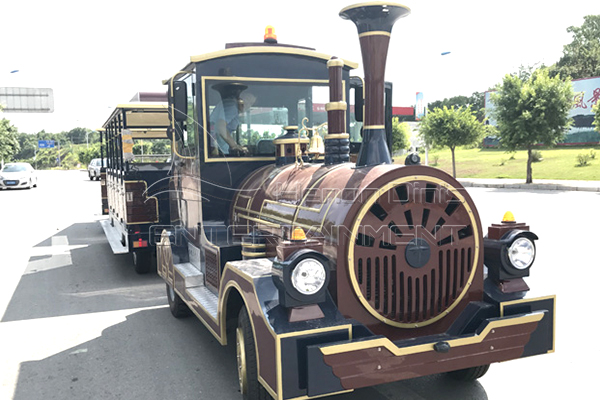 ---
Furthermore, in our company, we not only design and manufacture these 3 types train rides for sale for you, but also Thomas train ride, train mall ride, indoor train ride, luxury electric train, Christmas trains for sale, theme park trains for sale, and so on. These amusement train rides for sale produced with fiberglass and Q235 steel have 10-70 seats. Thus, which capacity and themes amusement train rides you want, our company provides you. If you want to know more details about these factory price train amusement rides, please contact us.