How much is the cost of swing carousel?
You can find cost-effective watermelon swing carousel in Dinis Company. As the professional manufacturer of swing amusement rides, Dinis has its own factory and can provide you with reasonable prices directly from the factory. As for quality, Dinis never exchanges quality for price. Based on this commitment, Dinis amusement park swing carousel rides are made of high quality fiberglass reinforced plastic, sturdy steel, and durable painting under constant temperature.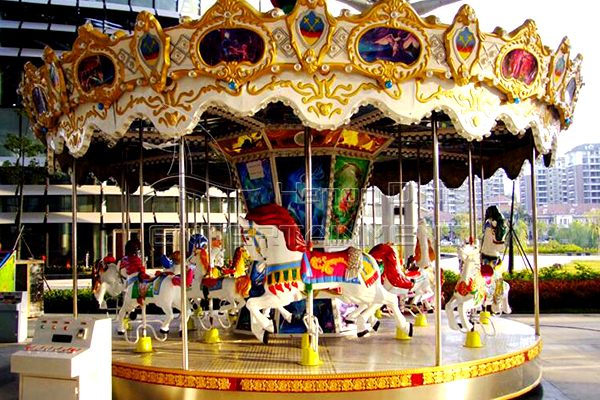 In addition, there is a huge capacity for garden swinging chair seats to ride, so you can get your investment back and make money in a relatively short period of time. About the application places, the carnival swing ride for sale can be used in many locations. All in all, buying the garden swing chair sale is a good investment for your ride business.
Entertainment device-History of the fair swing carousel
The swing carousel is a variant of the normal carousel. The swing carousel is a playground and park ride where the chair is hung from the top of the swing carousel for sale instead of an animal-like seat. The tops of some chair swing carousels can even tilt. Certainly, this kind of ride is also known as a wave swinger, yo-yo, Chair-O-Planes or a swinger. The swing ride is the earliest form of carousel. They first appeared in the ancient Byzantine, made of ropes and baskets, which were rotated around the center pole to carry people.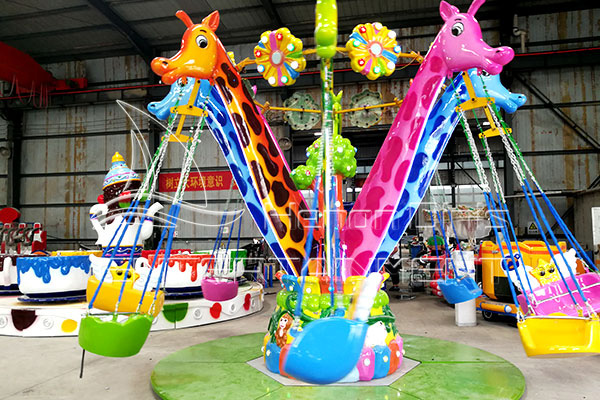 Different types of swing amusement rides in Dinis
According to different sizes and uses of the swing carousel, Dinis supplier offers a variety of ornament swing carousels. In general, there are kiddie swing ride for sale( 6 seater swing carousel for sale, kiddy ride swing, mini swing ride, mini flying swing ride for sale), vintage playground swing for sale, Christmas musical swing carousel(Christmas swing carousel), party venue swing carousel, portable amusement swing ride, adult swing rides for sale and watermelon flying chair ride for sale.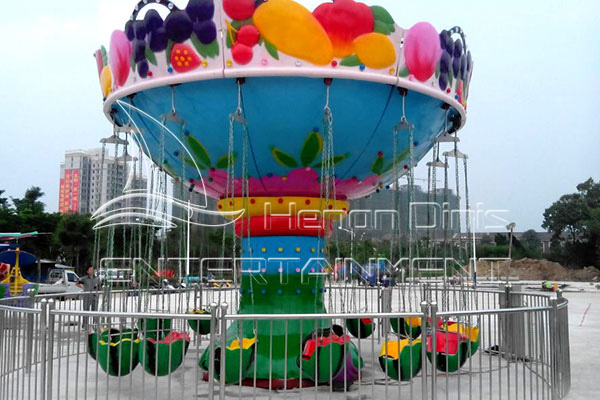 Various kinds of swing carousels for sale in Dinis
1. Kiddie swing ride for sale( 6 seater swing carousel for sale, kiddy ride swing, mini swing ride, mini flying swing ride for sale)
The kiddie flying swing ride is for children, and also has another name: yoyo for sale. Children have always liked swings since they were young, such as liking the shaking of their cradles, swings in the local park and so on. So the ornamental swing carousel from Dinis will definitely satisfy the children's needs.
2. Vintage playground swing for sale( old-fashioned swing ride for sale)
With antique appearance and classic style, the old-fashioned model swing ride for sale is always popular among most people. Therefore, this is a good choice for you, too.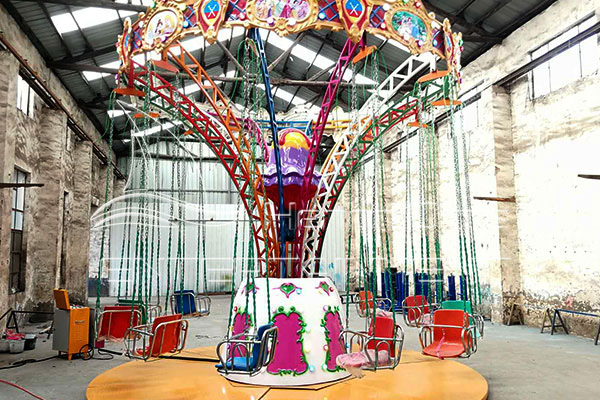 3. Christmas musical swing carousel(Christmas swing carousel)
Christmas musical fair swing ride for sale is designed with Santa theme. With Xmas music, this kind of flying swings ride will make the atmosphere of Christmas holiday more intense. Usually, the appearance is colorful, which can attract children's attention. The Christmas carousel swing used for Christmas has become a popular and classic way of riding.
4. Party venue swing carousel
With the improvement of people's living standards, party venue swing ride on is becoming more and more popular among families. So investing on this kind of fun ride is also a good way to make business.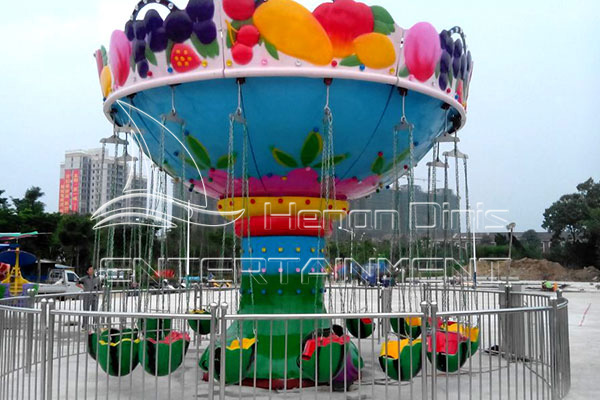 Other representative swing carousels hot sale in Dinis factory
5. Portable amusement swing ride
Now funfairs and carnivals are becoming more and more famous. If you like to attend the funfairs or carnivals and want to start a business, the portable amusement swing ride is suitable for you. This kind of amusement device is popular among different people of all ages.
6. Adult swing rides for sale
Usually, this kind of park swing carousel for sale is for adolescents and adults. This kind is more exciting and extreme compared with kiddy ride swing.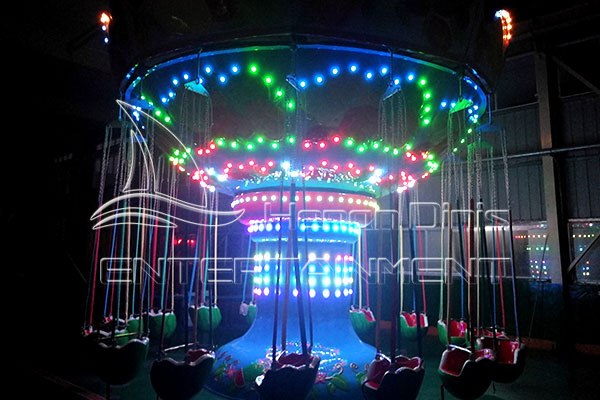 7. Watermelon flying chair ride for sale
As a representative product in Dinis, watermelon flying chair ride, also known as fruit flying chair ride, is a popular kids ride swing with novel designs. The minute you see the ride, you will know immediately why it is called so. It is with watermelon shaped chairs and top decorated with various kinds of fruit.
In addition to these park swings for sale, Dinis can also customize various swing riding for fun fair. So if you have your own ideas on the amusement swing rides for sale, please let us know.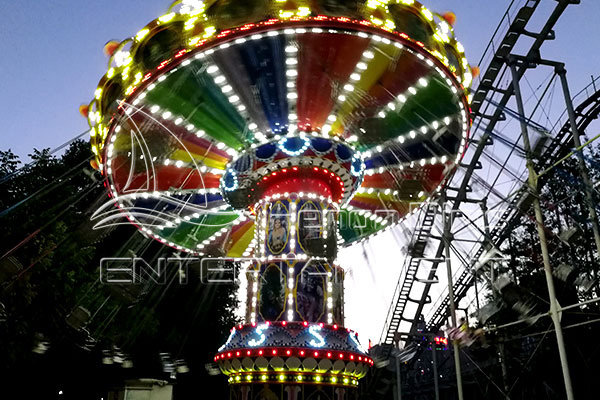 Description of the swing carousel for sale
Affordable price swing carousel is selling well in Dinis Company. The swing carousel also has other names: swing amusement ride, amusement park swing ride or fair swing carousel. When the wave swing ride for sale starts, the seat will make a circular motion. As everyone knows, the flying swing ride has a long history and is loved by people of all ages. It is an enduring attraction for theme parks, playgrounds, carnivals, playgrounds, shopping malls and other places. Furthermore, Dinis company provides custom service for customers around the world.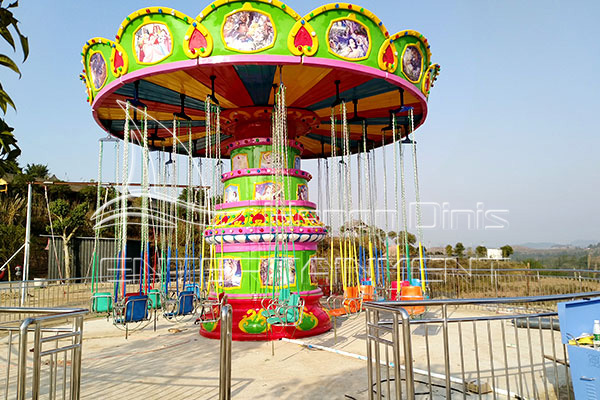 How do swings in amusement park work?
If more information about the working principle of the swing carnival rides for sale, let's take a look at the physical principles behind the swing carousel at first. We all know that the rider sits on a chair suspended from a chain. When the ride begins to move, the person sitting in the chair will be thrown out. As the flight speeds up, passengers will feel that they will fly out, but in fact they will stay in their seats. It is centripetal force that makes people sit still in their seats.
In addition, when the riding speed is increased, the rider who rides the waveswinger ride for sale will experience the centripetal acceleration in the circular motion. Of course, there are other forces, such as the stress of the chain and the weight of the rider. In general, it is the combination of forces that make people of all ages like this kind of fun facility.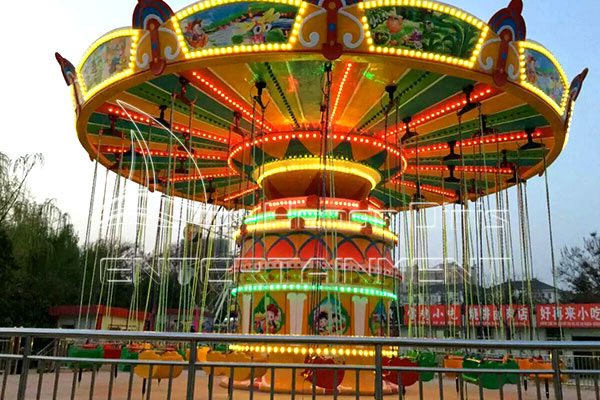 Where to purchase the carnival swing rides for sale-China Dinis manufacturer, supplier
Dinis is China's leading manufacturer of theme park rides. With more than 16 years manufacturing experience, Dinis offers high quality amusement park rides and a full range of services. As one of the playground rides, the swing carousel is one of the most popular carnival rides. In recent years, Dinis have exported the flying swing ride to more than 60 countries and areas. For example, UK, India, Ireland, Orlando, Kenya, Nigeria, Singapore, Italy, Malaysia, Philippines, Dubai,south Africa, Kigali, Pakistan, Germany and so on. If any details, please contact us Dinis.