The sea carousel is the newest and most stylish carousel ride designed by Dinis Amusement Equipment Company. Its novel, unique style and design have aroused children's interest and attention. And it has become a beautiful scenery of amusement parks, playgrounds, funfairs, fun grounds, zoos, shopping malls and backyards. Like flying chair rides, plane rides and rotary rides, train rides, the ocean roundabout is considered as a popular ride for children and adults. With 20 years' manufacturing and exporting experience, we have our own factory and perfect after-sales service. You don't have to worry about quality and service issues. If you want to buy a ocean merry go round, please feel free to contact us. And we will offer you the best product and reasonable price.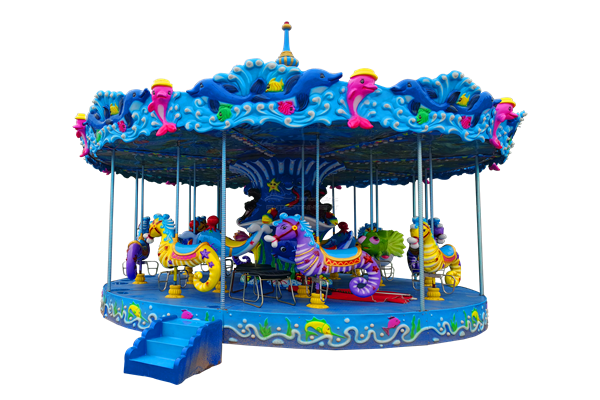 ---
Why Sea Carousel for Sale is A Good Investion for You?
The ocean carousel equipment for sale is designed according to the theme of the ocean and made of marine animals such as small seahorses and shells. It is vivid and very popular among children. Since the product entering the market, it has been very popular among the public and has a high attendance rate. It is one of very good investment products, and other investment sets are bumper car, coffee cup, swing carousel, train ride, slide, Ferris wheel, self control plane, inflatable castle, and so on. These amusement rides can bring you better benefits in the daily using.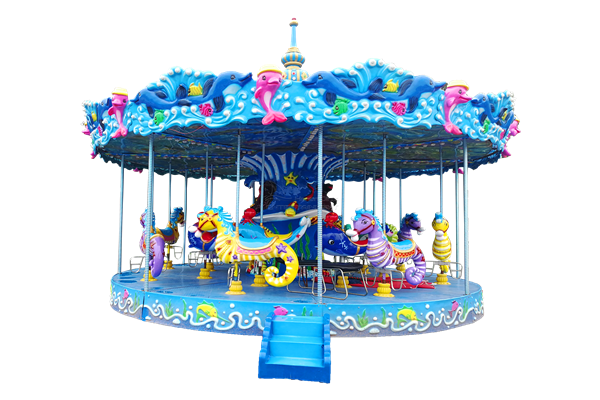 Ocean jumper for sale specifications:
Place of origin: Zhengzhou, China (Mainland)
Type: Amusement ride
Product name: Sea themed whirligig for sale
Material: Fibre-reinforced plastic and steel
Capacity: Customized
Color: Customized
Packaging details: Plastic film with wooden cases for sea export
Guarantee: 12 months
Supply ability: Wholesale supply
Usage: Theme park, playground, funfair
The design of the huge rotating shaft in the middle simulated the sea world which has small turtles, small whales, long seaweed, small sea fish and many other small animals, playing in the water and presenting a happy scene.
The ocean carousel rides for sale not only have our common horses riding, but also the shape of the shell car and the small sea fish. Not only can it carry children of all ages, even small babies who can't walk can also ride with their mother. At the same time, the device adopts the upper transmission structure. And it has the advantages of stable operation, low noise, strong load force, convenient maintenance, comfortable ride, safety and reliability, etc. Thus it is popular among customers.
Therefore, welcome to the sea merry go round which has beautiful mermaids, a cute little hippocampus and small porpoises that spit water.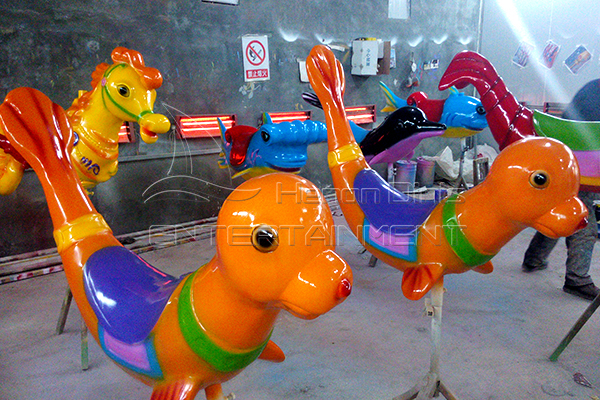 ---
Why do children and adults think riding the sea carousel for sale is a good idea?
Ocean carousel amusement equipment for sale is a luxury carousel with a unique shape with blue and green theme of marine animals. It stands out among a lot of carousels because of the unique appearance. Generally speaking, the ocean themed merry go round can be customized into 16 seats / 24 seats / 36 seats. After the equipment starts with the music and the marine animals dancing. In the evening, under the illumination of the lights, it feels more like a sea world dream. Therefore, for people, riding the sea carousel is a good idea.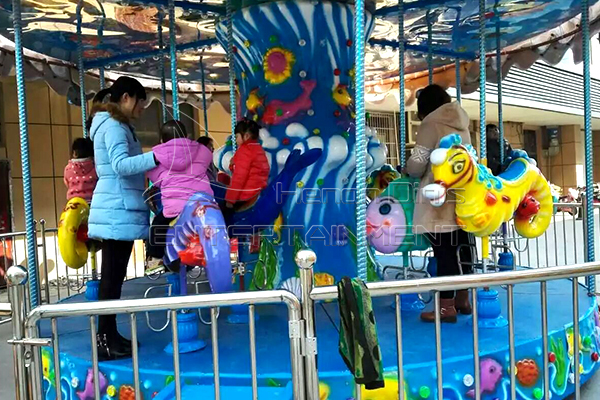 Sea rotating horse ride specifications:
Brand: Dinis Amusement Equipment
Product name: Mini sea spinning horse for children
Play age: 3-10 ages kids
Material: FRP and steel
Size: Customized size
Decoration: Colorful LED lights, music, animal images
Usage: Theme park, playground, funfair, etc.
Speed: 3.5 laps/min
Supply ability: Wholesale supply
Warranty period: 12 months
---
Is the sea carousel spinning horses for sale suitable for installation in the community?
First of all, you must ensure that it cannot disturb the people. When the sea horse carousel for sale starts, it is with the rotation of music. The volume of the music should be controlled at a reasonable volume range to ensure that the nearest residents can hear the faint sound.
Secondly, you must ask for the consent of the property. Generally, the large and formal districts have property management. In order to successfully install the sea animal carousel for sale, you must obtain their consent, sign the contract and comply with the relevant regulations in the community.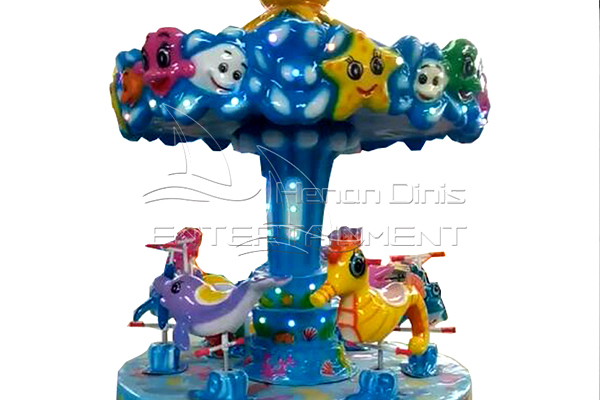 Three player ocean jumper specifications:
Brand name: Dinis Fun Ride
Type: Kiddie amusement equipment
Product name: 3 seats sea merry go round
Diameter: 1.4m
Power: 1.5-3KW
Voltage: 380V/220V/110V
Capacity: 3 seats
Supply ability: Wholesale service provided
Warranty: 12 months
Lead time: 30 days after deposit of fun carousel rides
Thirdly, site selection of the community. For the installation of the sea life whirligig for sale in the community, it is not possible to interfere with the normal driving of the residents. Try to choose an empty place in the community, which is convenient for tourists to ride. And it does not interfere with the residents' commute. In fact, it is possible to install a sea carousel for sale in the community. If you can avoid the above problems, just install them.
---
Unique Models of the Ocean Carousel for Sale from Dinis
The ocean carousel for sale is different in size, including 3-24 seats that can be like a regular children's carousel for sale. The size of the sea themed carousel for sale can be customized according to customer requirements, such as 4 seat merry go round for kids. Marine carousels for sale with individuality often appear in parks, gardens, kindergartens, leisure areas, supermarkets, etc. It will definitely bring you high economic benefits. Whatever your request is, we Dinis can provide OEM service according to the color, size and shape.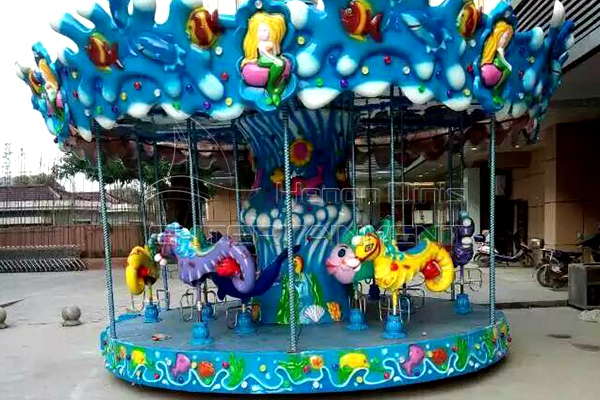 ---
Reviews about Sea Rotating Horses from New Jersey
The marine life carousel for sale features the fantasy marine animals. And you can ride your favorite seahorse, goldfish, dolphins or sharks there. No matter how old or young, you can take a dip in the deep sea like in this colorful zoo. This is the place where the whole family must go, described in a customer's review from New Jersey.
Characters of Sea Style Carousel for Sale from Dinis
The material about the ocean carousel for sale is mainly FRP and steel, so it is very durable. With lovely theme, strong and safe structure, lovely characters, beautiful LED lights, attractive music, convenient to operate and maintain, profitable and remote control, this kind of sea rides for sale is very popular among investors and tourists. Welcome to visit Dinis.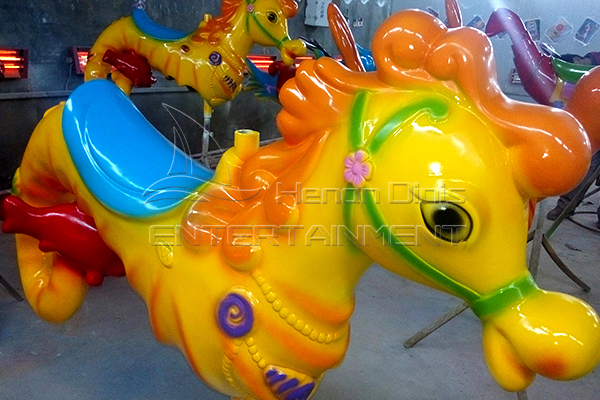 Sea style flying horse ride specifications:
Place of origin: Zhengzhou, China (Mainland)
Type: Amusement ride
Product name: Ocean whirligig for sale
Applicable people: Kids and adults
Material: FRP and steel
Capacity: Customized
Packaging details: Plastic film with wooden cases & suitable packing
Guarantee: 12 months
Lead time: 30 days after deposit of amusement carousel rides
Usage: Theme park, playground, funfair, etc.
The cute ocean carousel (also known as the seahorse carousel) for sale with different kinds of marine mammals such as whales, seals and sharks, will lead people to a great and beautiful ocean world. The blue ceiling is decorated with starfish, jellyfish or mermaid, just like the real blue sea, giving a mysterious and spacious feeling. Children love this beautiful sea carousel for sale because they can play with marine life and observe the magical underwater world. All these features will attract more passengers and allow operators to make more money. If you are looking for a kind of amusement equipment for sale to make money, please contact with us soon.
---
Merry Go Round Horse Ride Technical Parameters Reference
| Seats Info | Occupied Area | Voltage | Power | Speed | Working Principle |
| --- | --- | --- | --- | --- | --- |
| 3 Seats | Φ1.5mx2m | 220v | 500w | 0.8m/s | Upper/Lower/Imitated Transmission |
| 6 Seats | Φ2.2mx2.5m | 220v | 800w | 0.8m/s | Upper/Lower/Imitated Transmission |
| 12 Seats | Φ4.8mx4.5m | 220v | 3kw | 0.8m/s | Upper/Lower/Imitation Transmission |
| 16 Seats | Φ5.5mx4.8m | 220v | 3.3kw | 0.8m/s | Upper/Lower/Imitation Transmission |
| 24 Seats | Φ7.5mx5.3m | 380v | 5kw | 1.0m/s | Upper/Lower/Imitation Transmission |
| 36 Seats | Φ8.5mx6m | 380v | 4kw | 1.0m/s | Upper/Lower/Imitation Transmission |