A Brief Introduction to Dinis-Kids Carousel Rides Manufacturer
As a professional ride manufacturer, Dinis can offer you a range of successful and popular children carousels. For example, we offer a classic children's playground carousel with running horses and marine themed kids carousel for sale with colorful marine animals. Furthermore, if you have any specific needs, we can fulfill your requirements because we have a team of professional technicians. And we know how to meet your various needs whether it is design, theme or color. So, trust us. With our own factories and skilled workers, we Dinis are able to offer you a perfect children's carnival carousel at a reasonable price within your budget.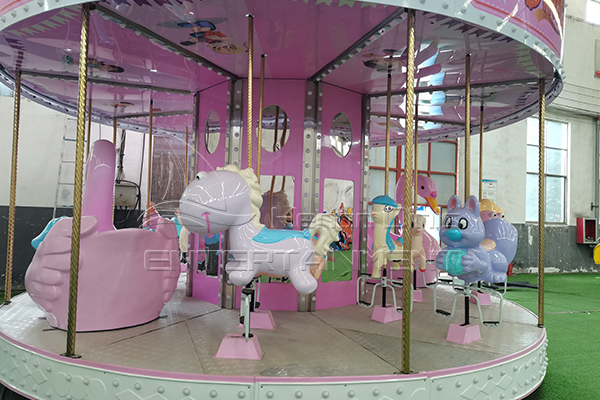 The last but not the least, we not only have reasonable prices products, but also good quality equipment. Generally speaking, our kids carousel for sale is mainly made of fiberglass reinforced plastic, making it durable and easy to clean. The engine and other important components are also of high quality, which will definitely bring you long-term income.
With so many advantages mentioned above, if you want to buy a children's carnival mini carousel and other rides, our company is your best choice. Our company is a professional manufacturer of amusement rides in China. It is committed to providing you with high quality and low-price products, all-round pre-sales and after-sales service. We are here to provide you with advice on products, shipping, and technical issues. If you have any questions, please feel free to contact us.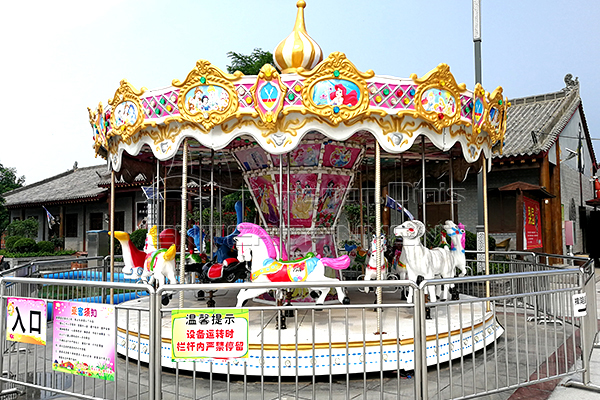 Kiddie merry go round for sale specifications:
Brand: Dinis Amusement Equipment
Type: Amusement ride
Product name: Toddler rotating horse for children
Play age: Especially for kids
Material: Fibre-reinforced plastic and steel
Size: Customized size according to requirement
Usage: Theme park, playground, funfair
Speed: 3.5 laps/min
Supply ability: Wholesale supply
Warranty period: 12 months
---
How Many Kids Carousels for Sale in Dinis?
As the leading amusement equipment manufacturer, Dinis has many kinds of kids' carousel for sale. For example, the metallic children merry go rounds, school children merry go round iron and iron kids merry go round are made of iron and metal. There are also round 4-seat kids merry go round outdoor, old 1980s or 1990s coin operated 3 seat kids merry go round for sale, four child merry go round and 12-person kiddie carousel for sale carnival ride according to the number of seats.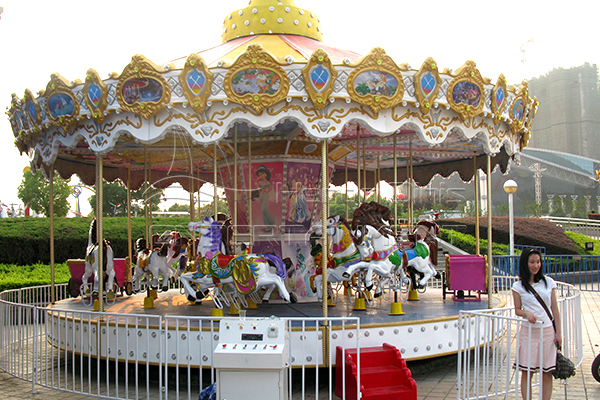 Recently, we has also developed three new kinds of kiddie merry go rounds for sale. They are ocean carousel kiddie ride, king kiddie carousel for sale and Mcdonald's fry kids merry go round for sale. Certainly, according to different driving methods, there are kiddie coinbase carousel for sale and electric kids merry go rounds for sale. If you want to use indoors, indoor kiddie merry go round ride and kids merry go round for home are suitable for you. If you want to use it outdoors, children's outdoor merry go rounds and kids merry go round for backyard are perfect for you. What's more, we also provide deluxe kids vintage carousel for sale, portable carousel for children, Santa carousel children ride, and so on. If you have any needs for kids' carousel for sale, please contact us. But if you don't know how to plane and buy amusement sets, we will offer you a reasonable suggestion.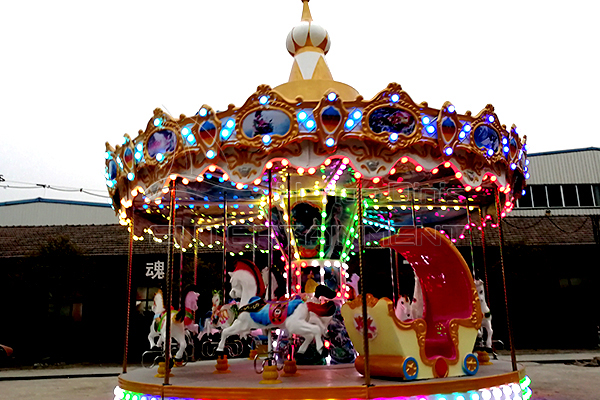 Whirligig for children sale specifications:
Brand name: Dinis Fun Ride
Type: Amusement equipment
Product name: Three seat merry go round for baby
Diameter: 1.4m
Power: 1.5-3KW
Voltage: 380V
Capacity: 3 seats
Supply ability: Wholesale service provided
Warranty: 12 months
Lead time: 30 days after deposit of fun carousel rides
---
How to Make a Children Carousel for Sale in Our Company?
Children's carousels are specially designed for children's needs, generally speaking, which are medium or small with low height. Due to the reduced size of the children's playground carousel, it is suitable for indoor and outdoor entertainment centers. For example, playgrounds, children's foundation, children's store, children's theater, child care center, shopping malls, supermarkets and even residential backyards.
When the toddler small carousel is activated, its turntable will gradually rotate. And the horses connected to the turntable will move up and down along the turntable. It makes the little passengers feel like they are riding a real horse. Therefore, children's carousels are very popular among children.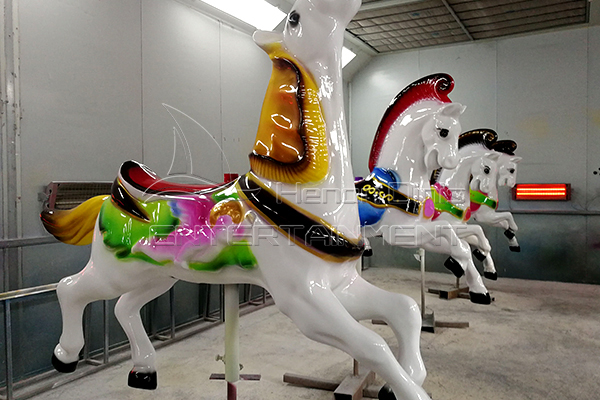 ---
What Does a Kiddie Merry Go Round Look Like?
The kiddie merry go round has a small rotating circular platform, small and low pillars, and small horse or other animal shaped seats for young children riders. What's more, the lifelike horses usually have bright and colorful colors with beautiful graphics on the main pillars, spectacular paintings on the top and on the platform. In addition, as long as the ride starts, the combined music player can play the children's favorite songs. And Dinis's children's carousel can also program a variety of melody or songs the kids like. Therefore, they look more beautiful than normal roundabout.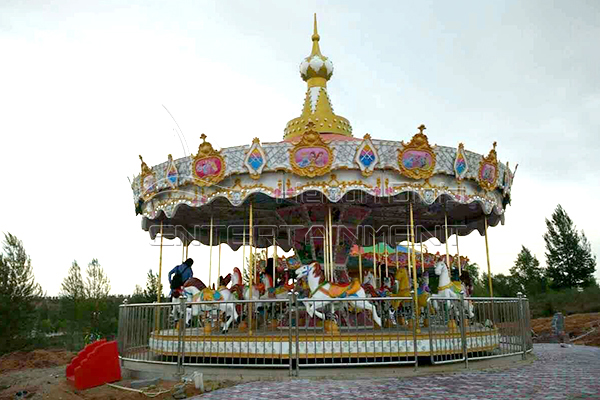 Baby whirligig sale specifications:
Place of origin: Henan, China (Mainland)
Type: Fun rides
Product name: Sea theme spinning toddler ride
Usage: Theme park, amusement park, zoo
Material: FRP and steel
Supply ability: Wholesale service provided
Color: Customized
Player: Customized
Warranty: 12 months
Lead time: 30 days after deposit of amusement carousel rides
---
The Meaning of Riding on Roundabout Kiddie Ride for Children
Riding on roundabout kiddie ride, one meaning is that it represents innocence. Children usually play the toddler roundabout rides. While children are the most innocent, the cleanest and simplest people in the world. They don't experience too much warmth and sorrow, and they can keep everything good. Those who go to the whirligig rides will temporarily forget their troubles. And they will find a quiet and comfortable childhood like children, deeply enjoying the childish original mentality. The other meaning is to improve the grasping ability of the child's hand and the exercise of the arm muscles, strengthen the child's self-safety awareness, and exercise the child's balance ability and three-dimensional sense.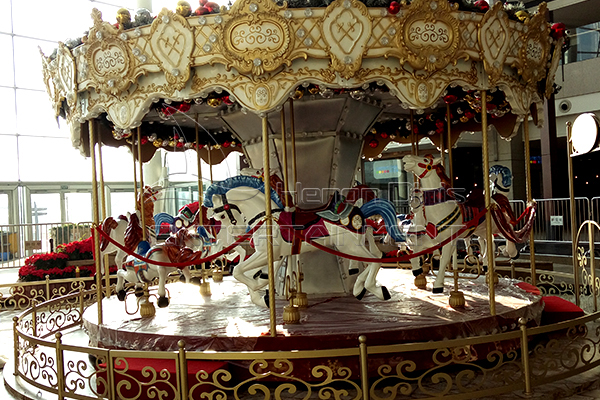 ---
The Customers' Reviews about Children's Whirligig Ride
With 20 years' exporting and producing experience, our company has exported the kids riding carousels to San Francisco, Williamsburg, Braintree, Memphis, Staten island, Metairie, Holyoke, Melrose, Glasgow, Benton city, Los Angeles, Toronto and so on. What's more, we have received a lot of good reviews from home and abroad. A client from New Zealand evaluated Dinis like this, and he just bought the kids rotating horse ride on 10 November 2021. Moreover, he has a good business by kids merry go round, so he decides to buy other fun rides: wave swinger, sightseeing train rides to expand the business.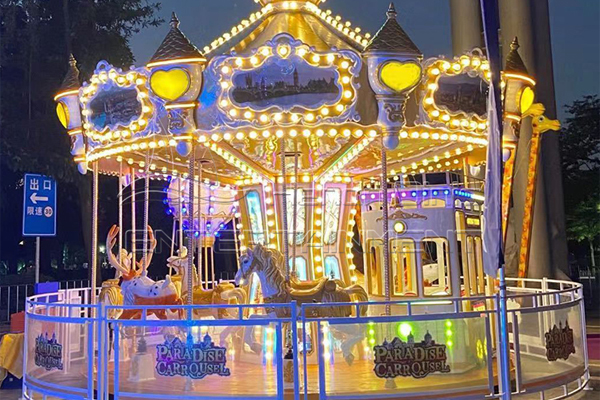 He said that mini 6-seat child carousel equipment from our company was made of FRP material, which was environmentally friendly, safe, corrosion-resistant and stable. Then, the equipment was gorgeous in appearance and beautiful in color, so children liked it, and they were riding on the carousel like a pride princess and prince. Besides, due to its small size, it is ideal for indoor playgrounds, shopping malls, supermarkets, kindergartens, and other high-grade venues.
He also thinks that our company is very professional, and our hot selling kids classic rides are comprehensive. Surely, our company sells all kind of amusement sets, including bumper car, pirate ship, coffee cup, swing carousel, trackless train, track train, other train rides, roller coaster, Ferris wheel, self control plane, go kart, sightseeing car, inflatable castle, rainbow slide, and so on.
---
The Features of Kids Spinning Horse Ride for Sale
1. Great money-maker
Dinis's kids spinning horse ride is a great money-maker which has attractive appearance, sweet music and beautiful light. Once children see the child carousel, they will love it because of its features above. What's more, the kids spinning horse ride is easy to disassemble and install. And you can carry it to any lively place and make your money.
2. Maintenance-free
Kids' carousels for sale need almost no maintenance. That is, the child size carousel horse has been added with a certain amount of lubricating oil at the time of delivery. Generally, you don't need to add lubrication in the initial operation; You just need to fill the slewing support gear with lubricating oil once a week according to the situation; Grease the slewing bearing once a month. Clean and replace the oil in the gearbox once every six months. In a word, it's easy to maintain.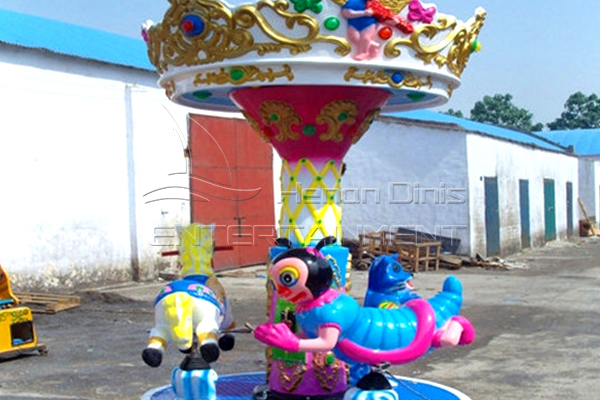 3. High utilization rate and quick return
About high utilization rate, the kiddie carousel for sale relies mainly on its beautiful appearance, with its colorful lights and wonderful music to attract many kids. Generally speaking, as long as a product can first attract customers and give customers a good impression, he may become your frequent visitor. As long as the place is suitable, you don't need to introduce it, you will have a steady stream of customers.
About quick return, the kids flying horse ride for sale is generally lighter and easier to move. So where you want it to go, wherever it goes such as squares, parks, temple fairs, as long as there is a big crowd, there has their presence.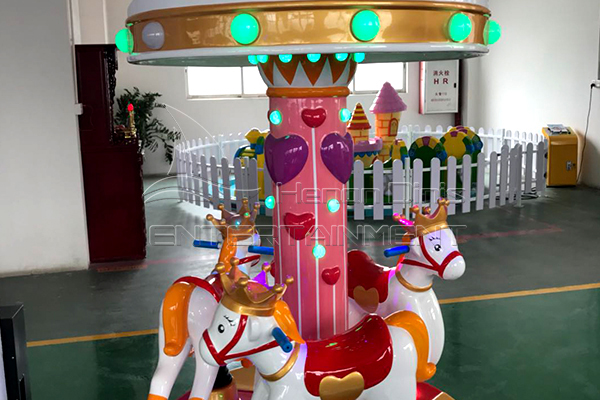 ---
Merry Go Round Horse Ride Technical Parameters Reference:
| Seats Info | Occupied Area | Voltage | Power | Speed | Working Principle |
| --- | --- | --- | --- | --- | --- |
| 3 Seats | Φ1.5mx2m | 220v | 500w | 0.8m/s | Upper/Lower/Imitated Transmission |
| 6 Seats | Φ2.2mx2.5m | 220v | 800w | 0.8m/s | Upper/Lower/Imitated Transmission |
| 12 Seats | Φ4.8mx4.5m | 220v | 3kw | 0.8m/s | Upper/Lower/Imitation Transmission |
| 16 Seats | Φ5.5mx4.8m | 220v | 3.3kw | 0.8m/s | Upper/Lower/Imitation Transmission |
| 24 Seats | Φ7.5mx5.3m | 380v | 5kw | 1.0m/s | Upper/Lower/Imitation Transmission |
| 36 Seats | Φ8.5mx6m | 380v | 4kw | 1.0m/s | Upper/Lower/Imitation Transmission |