What is fair carousel ride?
Fair carousel is a type of carousel merry go round, which can be used in the fair. Besides, in history, some people use different names to call a fair carousel ride. In the UK, a flat roundabout also has another name that is a reasonable carousel spinning horse, a flat galloper or an affordable whirligig. And it means to ride it happily. Therefore, the cheap fair carousel for sale is commonly popular today because it is related to the origin of the proper flying horse. Another way of saying, in the ancient times, the cost-effective carousel used by French riders attracted the attention of onlookers who thought the modest carousel was fun to ride. Soon, the low-cost carousel rotating horse developed specifically for entertainment. Now, the fair merry go round is a common amusement ride in the parks, shopping mall, square, etc.
---
What are flat carousel horses made of?
In ancient times, the horses were carved from eucalyptus and oak, with boxy planks, panels, frames and mirrors. And this platform was used to be made of wood. But today they may be made of the same material, plastic or fiberglass. However, the moderate carousel for sale from Zhengzhou Dinis Amusement Equipment Company is made of high quality FRP material, with excellent design and beautiful appearance. Maybe you don;t know what is FRP ? FRP is a new composite material, and it has many advantages. For instance, it can be painted easily, and fair carousel with FRP material has a bright color. Besides, its merits have anti-collision and anti-rain. What's more, The upper part of the fair amusement carousel is with a colored ceiling. And the ceiling is with colorful FRP decorative panels. In general, all these make the reasonable roundabout more luxurious and gorgeous.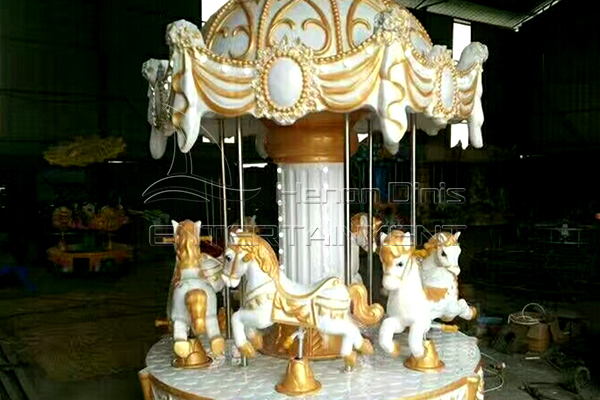 Fair merry go round specifications:
Model number: DNS-102
Product name: Small flat whirligig for sale
Capacity: 6 seats
Applicable people: all ages (over 3 ages)
Material: FRP and steel, famous paint
Space area: 3*3m
Speed: 0.8m/s
Guarantee: 12 months
Lead time: 15-20 days after deposit of amusement carousel rides
Usage: Theme park, playground, funfair, etc.
---
What kinds of animals are designed on a fair carousel spinning horse?
In the United States, there are flat carousels of tigers, lions, giraffes, camels, cats, dogs, pigs and so on. In Europe, the French men are the only people who put non-horse "zoo" animals on affordable carousel rotating horses. And mainly for smaller children. But these non-horse "zoo" animals don't move up and down. Certainly, Zhengzhou Dinis Company has designed a lot of new animal cartoons based on the ordinary pony shape, such as sika deer, ostrich, bigmouth horse, tiger, rabbit, Donald Duck, Mickey Mouse, etc.. So that the economical carousel re-emerges new vitality.
On the other hand, Dinis has developed a new kind of cheap ocean style whirligig, which makes people like it at a glance. Besides, we procude Santa carousel, animal themed carousel, carnival merry go round, kids carousel, luxury roundabout, antique carousel, etc.. These kind are different from other styles of horses, and its appearance are novel and attractive. Its unique shape and beautiful color design make people refreshed and unforgettable! The top of the economical amusement carousel is with a single layer, with mermaid, sandfish and seaweed on the cornice. The following pony uses vivid marine animal shapes, and a variety of small sea horses, small sea fish, sea lions and other any animals.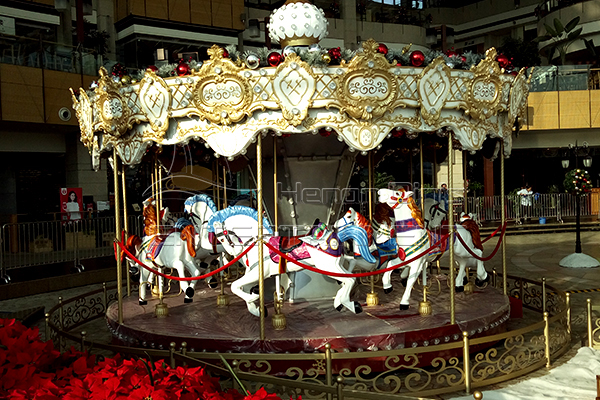 Fair flying horse for sale specifications:
Model number: DNS-20
Product name: vintage Good galloper for sale
Color: Customized
Capacity: 24 seats
Space area: 9*9m
Height: 6.8m
Control: electric control box
Feature: Attractive FRP appearance, coloful decorations
Packaging details: Plastic film with wooden cases & suitable packing
Warranty: 12 months
---
Will weather changes affect the cost-effective carousel ride for sale?
First of all, the weather affects the low-cost merry go round definitely. Modest jumper for sale is generally outdoor because of the relatively large volume. Generally speaking, especially in the summer when the season is hot and rainy. Once the weather changes and it has to stop working. Especially after the bad weather, it is necessary to conduct a full-scale inspection. Furthermore, the good horse about is generally high, and the possibility of lightning strikes is relatively large. It is also necessary to take lightning protection measures, protect against the weather and repair the damage well caused by weather changes.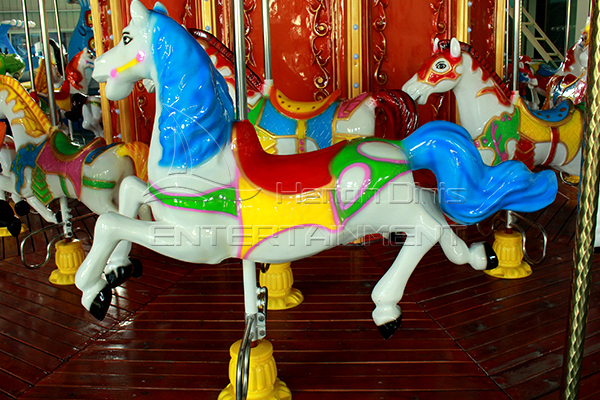 Secondly, the impact of winter and summer is more obvious. In winter, it is necessary to do the antifreeze work, otherwise damage will occur. And the proper horses' carousel will be frozen. At the same time, the winter weather is cold and the tourists will be less. At this time, the staff should not take it lightly. Inspect and maintain the cheap mini carousel rides for sale more frequently. In summer, just the opposite of winter, there are more tourists in summer. So the task of maintenance is also very heavy.
Although the impact of the weather is quite large, studying the impact of weather on fair merry go round can reduce a lot of unnecessary trouble. As a result, there will have a better protection of the fair cheap merry go round. Then creating a safe and comfortable atmosphere for visitors.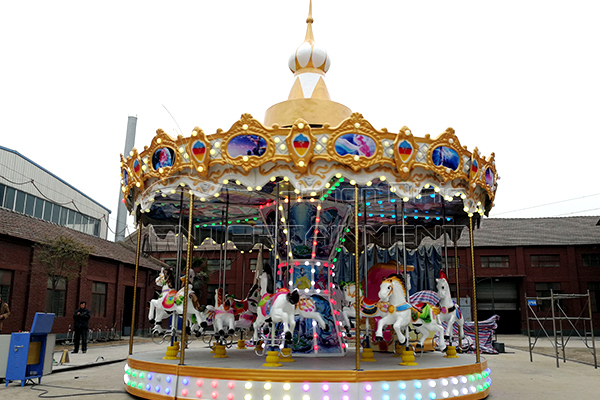 ---
Tips for solving flat merry go round questions
1. If the flat carousel for sale can't start, please refer to the following:
First of all, check whether the electric control cabinet is working. As long as the indicator light is on, it indicates that there is no problem with the power supply to the electric control cabinet. But if the indicator is not bright, first check the power supply. If there is a problem of disconnection and short circuit on the wiring of the cabinet. Please reconnect or replace the line.
Secondly, after finishing fixing the electrical control cabinet, the fair carousel for sale can still not start. It is necessary to check whether the motor is faulty. Remove the belt on the motor, start the power button on the electric control cabinet, and then see whether the motor works or not. If the motor is not working, you need replace it.
Fair rotating horse specifications:
Model number: DNS-52
Capacity: 12 adults and kids
Product name: Flat whirligig for sale
Material: FRP and steel
Usage: Theme park, playground, funfair
Height: 6.2m
Guarantee: 12 months
Color: Customized
After-sale service: Installation, maintenance, free technology
Lead time: 15-20 days after deposit of amusement carousel rides
---
2. If the fantasy fair carousel starts up slowly, please refer to the following:
Firstly, if the bearing is too tight, you just need to adjust it with a wrench. Generally speaking, the moderate tension can be suitable, and certainly, it's better to add some lubricating oil.
Secondly, if the voltage is unstable or too low, you just need to press the power start button to see if the voltmeter is normal. The solution is to replace the larger square power cable or replace the line access point.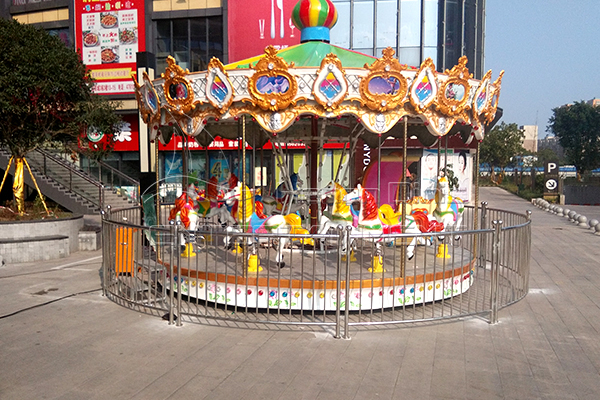 Affordable galloper for sale specifications:
Model number: DNS-36
Product name: Fair merry go round
Capacity: 16 seats
Material: FRP and steel
Speed: 3.5 laps/min
Space area: 8*8m
Usage: Amusement park, fairground, supermarket
Music: SD card in the control box
Warranty: 12 months
Lead time: 15-20 days after deposit of fun carousel rides
At last, if the flat merry go round for sale has too much shaking and noise, you need to check if the tire leaks or has insufficient air pressure. If it leaks, replace it or repair it. If the air pressure is not enough, you should inflate the tire. Second, due to the increased friction between the transmission part and the bearing, it is sufficient to add lubricating oil.
---
Where can you buy fantasy fair carousel for sale?
With 20 years' manufacturing experience, Dinis have exported the fair roundabout for sale to Singapore, Manchester, Texas and so on. What's more, in recent years, visitors can often see the flat merry go round in fairgrounds, fairs, countries, funfairs, parks, and backyards. So it quickly becomes a top selling fun ride, which are popular among 3-15 years old kids. Furthermore, in our company, you can buy the fair swing carousel for amusement parks and funfair rotating carousel for sale for 3-15 ages children. If you are going to buy a world's fair grand carousel, the luxurious vintage funfair spinning carousel for sale is suitable for you. Therefore, welcome to our company to customize your favorite flat whirligig at a reasonable price.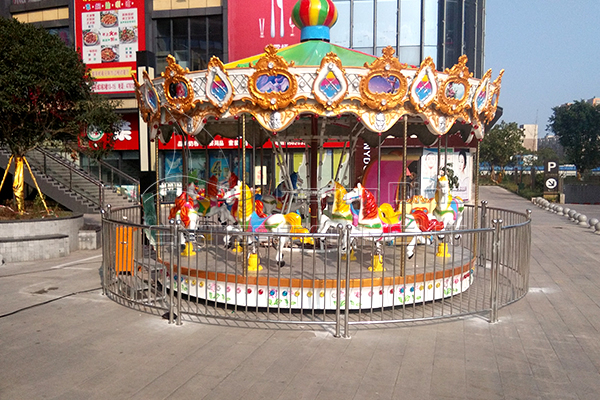 In addition, our company also customize other fun rides for you, including bumper car, roller coaster, train rides, coffee cup, rainbow slide, go kart, self control plane, swing ride, etc. And there amusement sets can usually be used in the theme park, funfair, kids playground, garden, lake district, shopping mall, carnival, Christmas and so on. So you can use the fair merry go round and other fairground rides to start your business. If you are interest in our fair carousel or other funfair rides, please feel free to contact with us. Now order, give you a discount price.
---
Merry Go Round Horse Ride Technical Parameters Reference:
| Seats Info | Occupied Area | Voltage | Power | Speed | Working Principle |
| --- | --- | --- | --- | --- | --- |
| 3 Seats | Φ1.5mx2m | 220v | 500w | 0.8m/s | Upper/Lower/Imitated Transmission |
| 6 Seats | Φ2.2mx2.5m | 220v | 800w | 0.8m/s | Upper/Lower/Imitated Transmission |
| 12 Seats | Φ4.8mx4.5m | 220v | 3kw | 0.8m/s | Upper/Lower/Imitation Transmission |
| 16 Seats | Φ5.5mx4.8m | 220v | 3.3kw | 0.8m/s | Upper/Lower/Imitation Transmission |
| 24 Seats | Φ7.5mx5.3m | 380v | 5kw | 1.0m/s | Upper/Lower/Imitation Transmission |
| 36 Seats | Φ8.5mx6m | 380v | 4kw | 1.0m/s | Upper/Lower/Imitation Transmission |