The Brief Introduction to the Mobile Carousel
The mobile carousel or merry -go -round is a rotary platform consisting of a rotating circular platform with seats. "Seats" are traditionally rows of wooden horses or other animals that are mounted on posts, many of which move up and down by gears to simulate galloping with sweet music. Other popular names include jumpers, horse about, horses carousel, amusement carousel, flying horses, merry go round, roundabout and whirligig. Among these, the mobile carousel equipment is highly popular among customers because of its simple disassembly and assembly. Furthermore, this kind of portable carousel amusement rides has the characteristics of strong mobility, high attendance rate and fast income. It is a frequent visitor to squares, amusement park ,mall, playground in recent years. And therefore it is the first choice for your amusement park, resort hotel, mall, playground, flea markets and so on.
---
Why are portable carousel for sale popular?
The mobile roundabout is a must-have ride for every theme park. Children and adults like to ride the mobile merry go round amusement ride in the park. Besides, because its bright color and cute animal images always capture and retain people's attention to the compact carousel. Certainly, we also design carousel for kids, so kids carousel with cute horses quickly becomes a popular fun ride among children.
The portable carousel for sale is a classic ride that is popular with children and adults in amusement parks, shopping centers and family entertainment centers. As people's life paces up, people still need to take time to make a magical journey of the moving whirligig. So some people decide to buy magical mobile merry go round to have a magical journey for their children and themselves. So mobile merry go round  becomes more and more popular.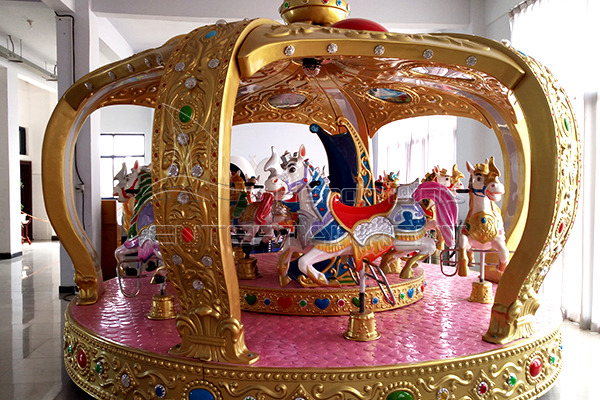 Moreover, portable carousel for sale has a main feature: moving anywhere.  Because some businessmen start their business from amusement parks to mall, they need buy a mobile merry go round. When they have a portable merry go round, they can make money from one area to other areas. So our mobile carousel is suitable for businessmen, and it is popular among businessmen. Besides, we have other popular amusement rides: train rides, flying chair, slide, bumper car and so on for you.
---
The portable merry go round origin and its different size
A portable carousel or a carousel (luxury horse) is a type of playground motor game in which a large platform is decorated with a wooden horse and moved up and down for tourists to ride. The earliest recorded luxury merry go round for sale with horses were presented during the Byzantine Empire. In about 1860, Europe presented the first steam-driven merry go round horses for sale.
Now there are different kinds of portable merry go round for sale in various sizes for you. And we provide you 3 horse carousel for sale, small carousel for sale and large carousel with double eaves. Thus, carousel with different size has different capacities.
Different size carousel specification:
Seats Info
Occupied Area
Voltage
Power
Speed
Diameter
Working Principle
3 Seats
Φ1.5mx1.5m
220v/380v/customized
500w
0.8m/s
1.4m
Upper/Lower/Imitated Transmission
6 Seats
Φ3mx3m
220v/380v/customized
1.1kw
0.8m/s
3.3m
Upper/Lower/Imitated Transmission
12 Seats
Φ6.5mx6.5m
220v/380v/customized
3kw
0.8m/s
5.3m
Upper/Lower/Imitation Transmission
16 Seats
Φ8mx8m
220v/380v/customized
3.3kw
0.8m/s
6m
Upper/Lower/Imitation Transmission
24 Seats
Φ9mx9m
220v/380v/customized
6kw
1.0m/s
8m
Upper/Lower/Imitation Transmission
36 Seats
Φ10mx10m
220v/380v/customized
7kw
1.0m/s
9.5m
Upper/Lower/Imitation Transmission
double deck
Φ10m*10m
220v/380v/customized
6kw
0.8m/s
8m
Upper/Lower/Imitation Transmission
---
How to Make a Mobile Jumper Operate?
You don't worry how to operate the mobile jumper, because our carousel is very easy for you to control. Because we use a control cabinet to control mobile carousel for sale. If some people over 18 years old sit on the carousel, you can adjust the higher speed to make people feel thrilling. But if some 3-18 years old children sit the carousel, you can adjust the slower speed to sure children safety. So it is suitable for you to control. Moreover, our portable merry go round  has a SD card, so you can download music which adults and kids like. Certainly, our SD card is needed to put into the control cabinet, it is so convenient for you. There are some different color buttons in the control box, so it is convenient for you to use in some areas.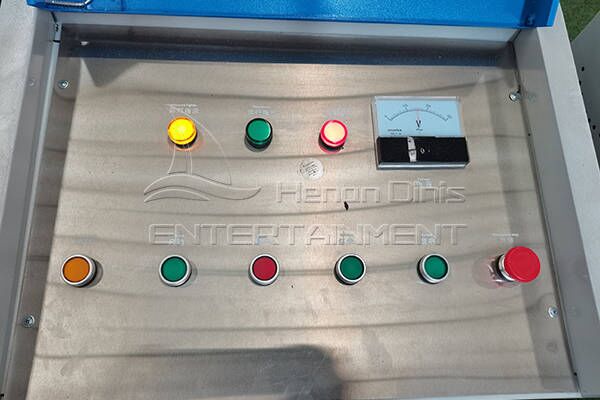 ---
What kind of portable horses carousel is suitable for your amusement business?
Christmas moving carousel is suitable for you
If you are going to buy a moving Christmas carousel for the coming Christmas, then the portable Christmas merry go round is suitable for you. It is a square-specific carousel device because it is easy to disassemble. This device also has another name, that is a simple Christmas carousel or a folding Christmas carousel. There is a little change on the basis of the luxury carousel, and it became an amusement ride that can be moved at any time. Wherever you want it to go, such as squares, parks, temple fairs, they are there then.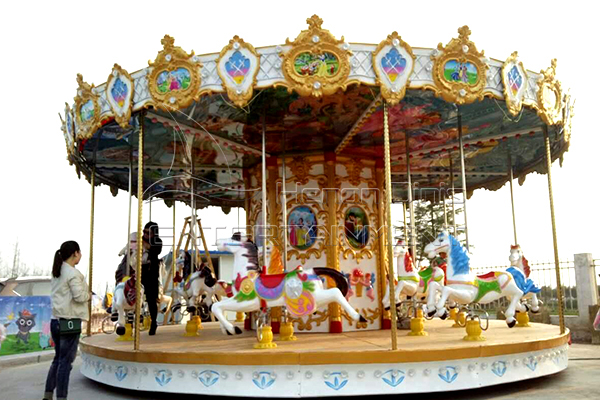 You can buy small musical portable carousels for sale for your business
If you want to buy a kind of amusement equipment for your fun grounds, then the small portable carousels for sale suit for you. The device is small and exquisite in appearance, and the 6-seat mini portable merry go round for sale is an indispensable product for investing in indoor recreation. The musical mini mobile merry go round with gorgeous appearance like a small version of the large luxury roundabout, is suitable for children over the age of 3-8, safe and reliable. What's more, this kind of musical moving mini rotating horses can be customized according to your needs.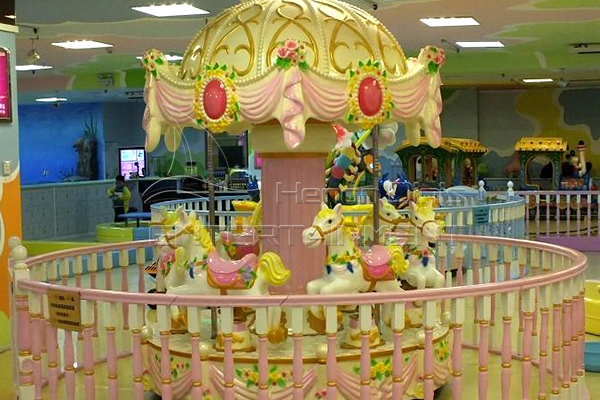 Vintage portable merry go round is a perfect fun ride for your business
If you want to buy a vintage portable merry go round, the Victorian moving picture carousel is perfect for you. It belongs to a kind of luxurious carousel spinning horses with magnificent appearance, exquisite and gorgeous decorative ornament, majestic momentum, beautiful lighting, noble and elegant shape, just like a rotating crown. After the start of the mobile carousel, the turntable rotates at a constant speed. Visitors ride on the rotating horses with colorful and different shapes and jump, as if they are in a fairyland-like fairy tale world. So it quickly becomes an "internet celebrity set" in the amusement sets, and it is loved by many people.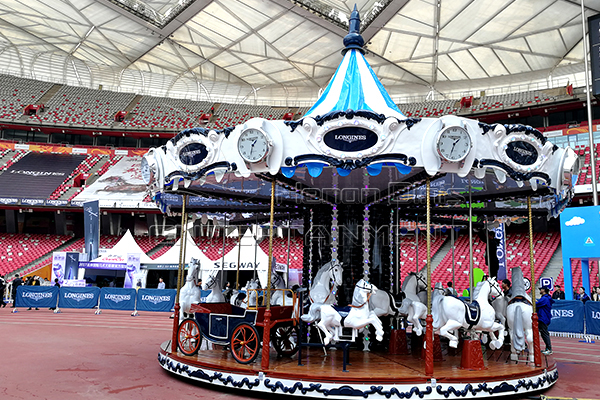 ---
Some Examples of Success in Moving Merry Go Round Business
Since the small portable roundabout for sale entered the market, it has become a favorite amusement ride for investors because of its exquisite appearance. It is very popular in large shopping malls and supermarkets, which both brings joy to children and benefits to investors. This product has the characteristics of small investment and fast profit, and it is a must-see project for investment. A client from Spain said like this. And he just bought new mini moving amusement carousel from Dinis on October 10, 2021.
In comparison with the common rotating horse carousel, the portable whirligig is very easy to assemble and disassemble. It has two large mobile wheels. Customers who often need to move or change the venue are very suitable. Shared by a customer from Vietnam who is a successful and best practice about operating the new mobile carousel.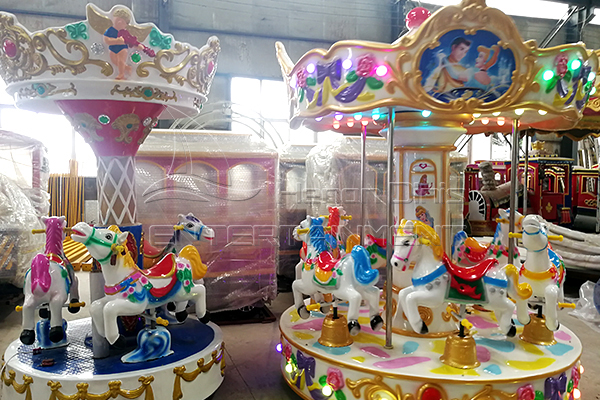 Mobile merry go round specifications:
Place of origin: Henan, China (Mainland)
Product name: Portable flying horse ride for sale
Usage: Theme park, amusement park, zoo, playground, markets, mall, carnival, Christmas etc.
Material: FRP and STEEL
Capacity: 3-72 seats (you can customize)
Decoration: LED lights, colorful drawing, popular music
Color:  Customized
Themes: Customized
Speed: adjusted
Warranty: 12 months
Lead time: 15-20 days after deposit of amusement carousel rides
---
What are the characteristics of the material of Dinis mobile flying horses?
The moving amusement carousel is a kind of amusement equipment for all ages and is popular among young friends. Generally speaking, it has four parts: the upper top, middle column, large plate and track. And the upper top includes an umbrella piece, an umbrella shed and an umbrella pull rod. In addition, the compact roundabout contains a cornice and a ceiling. In terms of materials, the material of the umbrella piece and the umbrella rod is steel and the umbrella shed is made of environmentally-friendly tarpaulin by hand sewing. The cornice is composed of fiberglass. What's more, the ceiling decoration generally has three materials: endurance board, photo cloth and sun board which are all harmless to the human body with high quality.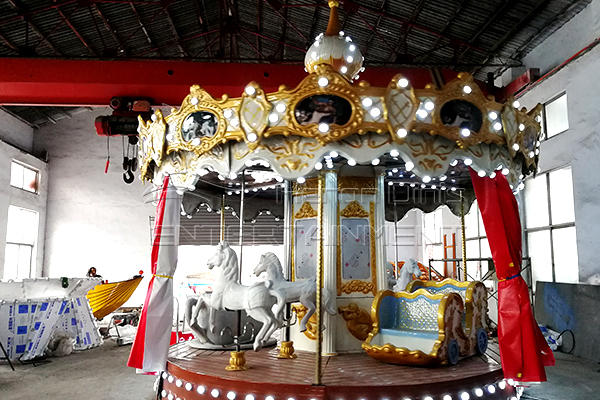 What's more, we Dinis also have more portable carousel merry go round designs on sale. No matter where you want to apply the portable horse about, such as homes, home parks, squares, amusement park, resort hotel, theme park, carnival, parties etc, our portable musical merry go round carousel is perfect for you to start your business. Please feel free to contact us, now we can give you a discount price.