How to build a trackless train? Building a trackless train involves several steps and considerations. In our factory, we use best materials and rich and professional production processes to manufacture trackless train ride for sale.
---
Here is a general outline of the trackless train production process:
Designing trackless train ride:
First, we determine the size and capacity of the trackless train. In general, trackless train park rides' capacity is 10-70 seats. Therefore, our company can provide you all kind of train rides trackless for sale. Certainly, we also decide on the overall design and style, such as locomotive and passenger carriages.
---
Producing frame and chassis with Q235 steel:
Second, we use sturdy materials like Q235 steel or aluminum to make the frame and chassis of amusement trackless train. Then, our workers use rich welding or bolting techniques to assemble its steel frame. Besides, we must ensure its chassis is designed to support the weight of passengers and provide stability during operation.
Manufacturing locomotive & passenger cabins with fiberglass:
Third, our company produces locomotive and passenger carriages by using materials like fiberglass, metal, etc. In our factory, we use 5mm fiberglass to make trackless train amusement park ride by 8 production processes. Next, we should install comfortable seating and safety features such as seat belts or safety bars. Certainly, we must consider adding a canopy or roof to protect passengers.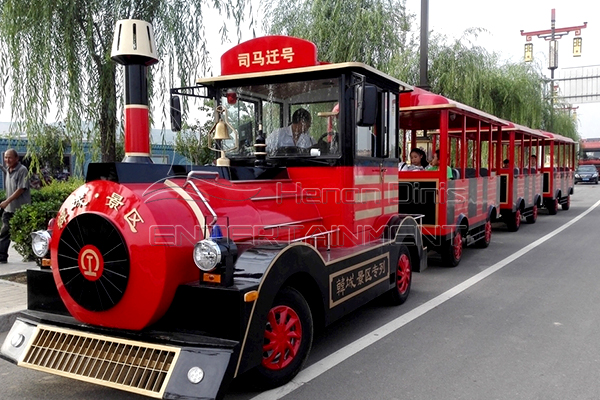 ---
Choosing power system: fuel & batteries:
Fourth, we determine the power source for the train trackless ride, such as fuel or batteries. Besides, electric trackless trains typically require batteries that are lithium batteries or lead-acid batteries, which can be used about 6-8 hours every time. Thus, if you buy trackless electric train ride, we suggest you buy battery train ride.
Installing suspension and 600-13 vacuum tire wheels:
Fifth, our professional persons start to install a suspension system to provide a comfortable ride. This can involve using shock absorbers, leaf springs, or other appropriate mechanisms. In addition, we choose high-quality 600-13 vacuum tire wheels designed for outdoor use, which are properly aligned and secured.
---
Installing control system of train ride:
Sixth, it is necessary for trackless train ride to implement a control system to steer and operate the train. Generally speaking, this can involve installing a steering mechanism, brakes, throttle controls, and an electrical control panel. By the way, our trackless train amusement ride is easily operated fun ride, which has a control system with many buttons. When you drive our trackless electric train, you only press specific buttons to control it.
Testing trackless train ride:
As we all know, safety is an important thing for starting fun ride business. So we must conduct thorough testing of the train's mechanical, electrical, and safety systems. After testing train funfair ride, we can ensure it meets all relevant safety standards and regulations. Then, you can purchase and drive our trackless train ride electric without worry.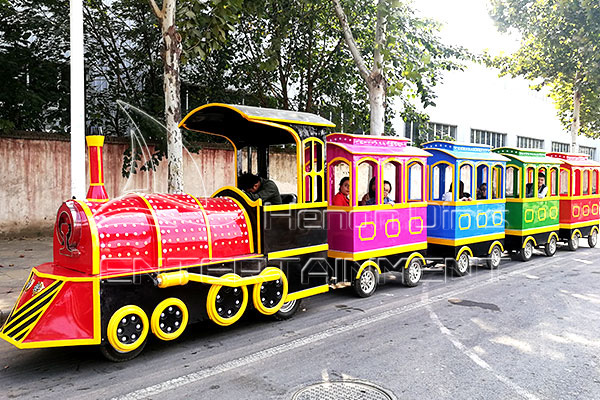 All in all, It's important to note that building a trackless train requires expertise in engineering, fabrication, and electrical systems. Certainly, consulting with professionals or experienced individuals in the field can provide you valuable guidance.
Maybe after reading above production processes, you roughly know that our amusement park trackless train meets all standards. This trackless train ride for sale is worthy of your investment. So if you want to learn more details or detailed quotation, please contact us.