Recently, carousel rides are more and more popular in the amusement parks, theme parks, shopping mall, square, family, children playground, fairground, etc. Thus, many businessmen buy carousel merry go round from Dinis to start their business. For example, selling carousel in Spanish. Besides, some customers in the united states, UK, Spanish, India, France, Germany, etc., bought all kinds of carousel amusement rides to start their business. A few months ago, one Spanish customer bought our antique carousel for sale, and small carnival carousel for sale, and so on.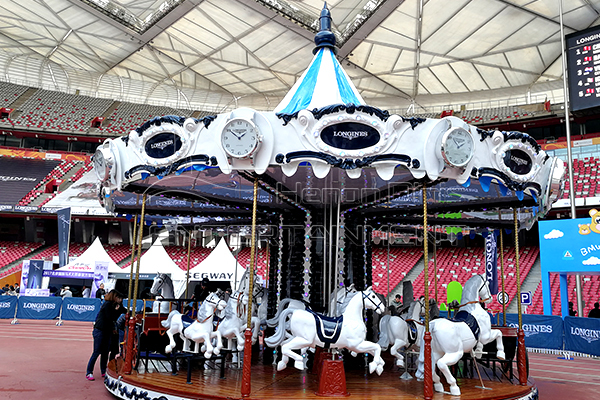 ---
Firstly: Why did he choose our company to purchase merry go round rides?
Our company Dinis is a professional carousel amusement rides manufacturer. Because we have our own factory to manufacture merry go round rides, and we have more than 200 workers, who are trained by specialist. What's more, we have set up a professional spray booth and paint booth. Besides, the spray booth and the paint booth must have dust-free and constant temperature conditions, so the general company simply does not have the conditions and strength to build a special spray booth and paint booth. But as long as carousel amusement rides are painted in the special spray booth and paint booth, the appearance's color of merry go round is bright.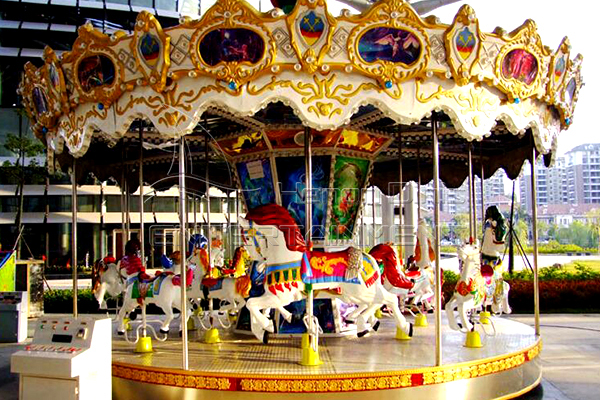 Furthermore, our company has produced all kinds of merry go round rides, including amusement park carousel ride, 3 horse merry go round, mobile carousel, small carousel for toddler, antique carousel ride, sea carousel, coin operated merry go round, customized carousel horse rides, etc. So customers can freely choose carousel rides in Dinis. Besides, our company Dinis is a strong amusement equipment manufacturer and seller. Because we not only produce all kinds of merry go round amusement rides, but also manufacture other funfair rides. These funfair rides include trackless train rides, track train, Ferris wheel, indoor playground, flying chair, bumper car, self control plane, pirate ship, roller coaster, and so on. So our company is a best choice for you.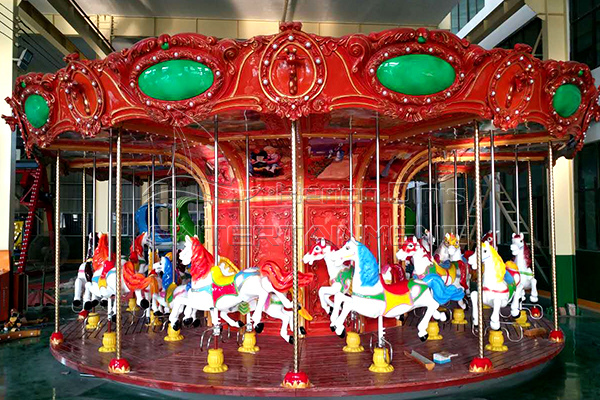 ---
Secondly: Why did he buy antique carousel and carnival carousel for commercial use?
The customer in Spanish didn't how to choose popular kids classic funfair rides. When our sales team knew his plan, and the team suggest him to buy carousel rides, especially antique carousel and carnival small carousel. Because these carousel merry go round are hot selling amusement equipment in our company. Moreover, these merry go rounds have an attractive appearance, comfortable animal seats, bright color, sweet music. So these carousel amusement sets are popular among 3-15 years old children and many young people. When these merry go round rides appear in the amusement park, them park, or children playground, they will attract more people. So our client from Spanish bought antique carousel and carnival carousel rides for commercial use, then he would get a good profit.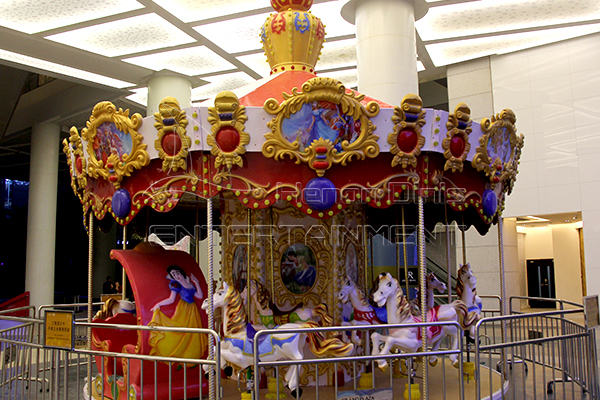 Now, he decide to buy other amusement rides, trackless train, self-control plane to expand his business. Besides, he say that he will introduce his friends to us. Because his friends also want to start amusement equipment business, and hope that we can give a suggestion. So if you want to buy carousel and other fun rides, you can contact with us to know about our amusement rides.