If you want to know about bumper cars for toddlers, read this one
A bumper car or a dodgem is a generic term for flat rides consisting of several small electric cars that draw power from the ground or ceiling and are remotely turned on and off by the operator. They are also known as bumping cars, dodging cars and dashing cars. This kind of bumper cars for toddlers is a very entertaining kind of amusement equipment with cute and cartoon shapes, which follows the trend of the times closely. The equipment adopts 12v battery. Its beautiful appearance is colorful and doesn't fade easily with environmental protection, corrosion resistance, good stability, novel style, good safety performance and better ability to adapt to the site etc. Therefore, all these make bumper cars for toddlers a popular amusement device for children.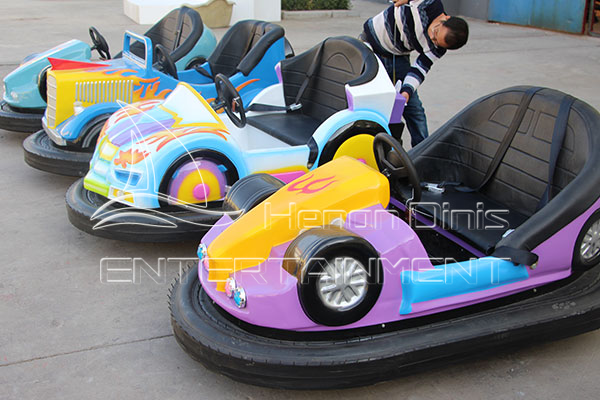 ---
2 real cases about bumper cars for kids for sale in Singapore and UK
Welcome to Dinis Company to purchase our best kiddie bumper cars for sale. We have successfully exported our kidirace remote control re bumper cars for sale to Singapore and UK in October, 2020. If you want to buy or change the bumper cars, please choose our company. We not only provides different kinds of bumper cars in Singapore and UK, but also produces a variety of bumper cars parts for your bumper cars. Our company has different kinds of bumper cars like kidirace bumper cars for sale, electric bumper cars, battery bumper cars, inflatable bumper cars, adult bumper cars, portable dashing car, spin zone dodgems, mini bumping car, etc. And the price of bumper cars are competitive, and their quality is superior.
If you want to have fun with your child in Singapore riding on baby bumper cars, I suggest you to ride the children's bumper cars imported from Dinis, China.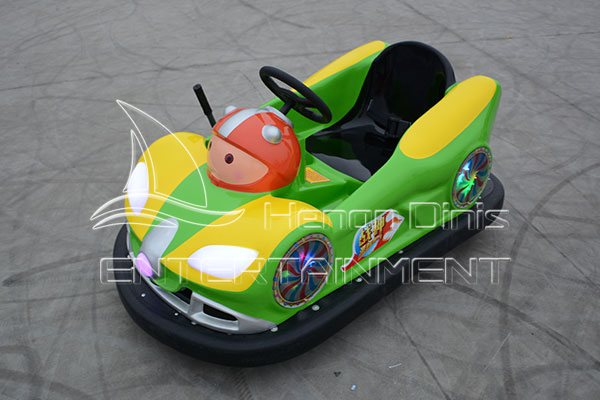 Dodgem car for children specifications:
Maximum payload: 150KG
Brake configuration: Electronic brake, loose foot that stops
Matching battery: 12V 14AH
Capacity: 1 person, or 2 persons
Color: Customized
Starting method: Wireless remote control start & manual start
Sheathing material: New anti aging and anti impact environmental engineering plastic
Supply ability: Customized service provided
Themes: Customized
Packaging details: Sponge then in standard wooden cartons
These kids bumper cars were shipped from China. These cars are self-powered and do not require a pole extending from the back to receive power from the upper grid. No real skills are needed. In fact, the worse the skill, the better. Just step on the pedal, turn the steering wheel and enjoy the happy time of colliding together. Each car can hold up to two people. Children must be at least 106 cm tall. If they are shorter more than 130 cm, they will need an adult to accompany them.
---
Ground grid & sky-net toddlers dodgems technical performances:
| Name | Voltage | Speed | Model | Occupied Area | Power | Dimensions | Passenger |
| --- | --- | --- | --- | --- | --- | --- | --- |
| Ground grid&sky net bumper car | 380V | 1.9 m / sec | Multiple models for choice | 15-30㎡/car | 750W/car | 1.925*1.15*0.83m | 2 persons / car or customized |
---
How playing bumper cars for toddlers are making family relationships more harmonious?
With the improvement of people's living standards, the education for children is becoming more and more comprehensive, not only at the level of knowledge, but also for the physical quality and emotional training of children. Good toys allow children to learn certain knowledge while playing.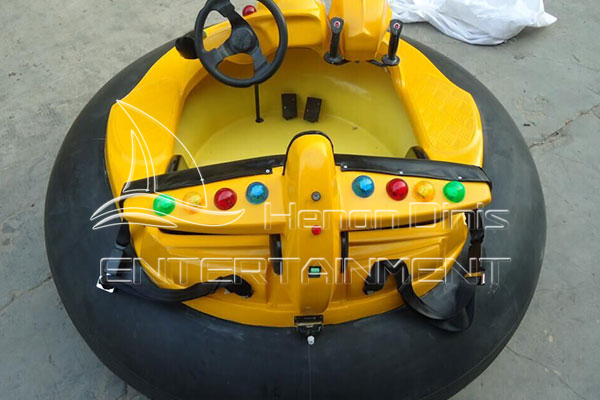 Kiddie dodging car specifications:
Place of origin: Henan, China (Mainland)
Brand name: Dinis Amusement Device
Material: ROHS and CE certificate material
Color: All colors can be customized
Warranty: 12 months
Power: 200W
Input voltage: 240V
Speed: 6-10km/h
Battery: 8 Hours
Capacity: 2 persons/car
Bumper cars for toddlers are such an activity which is very entertaining and can exercise children's abilities at the same time. It can not only exercise children's hand-eye coordination ability, ability to judge things, but also let children touch new things and increase knowledge. It is a very good device which connects amusement to learning. In a sense, kids ride on bumper cars can make family relationship more harmonious.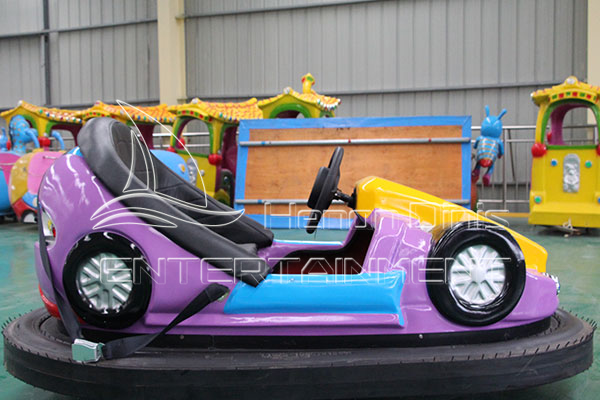 ---
How riding on bumper cars for children can keep kids out of trouble?
1.Choose the right time to play for children
When you take your child to the playground to play kids carnival bumper cars, try to avoid the rush hours to reduce the possibility of danger. It isn't very fierce while riding on the bumper cars for children when there are few people.
2. Avoid letting children play bumper cars alone
When playing a bumper car for toddlers, kids should be accompanied by an adult to avoid accidental injury to the baby. Please have a rest when baby is tired and don't let them play too long.
3. Come to an agreement with your child in advance
Some children want to play, but they are afraid of collisions. Then parents must communicate with their children well. If the child is afraid indeed, please stop, otherwise the children will not be able to accept kids bumper cars again.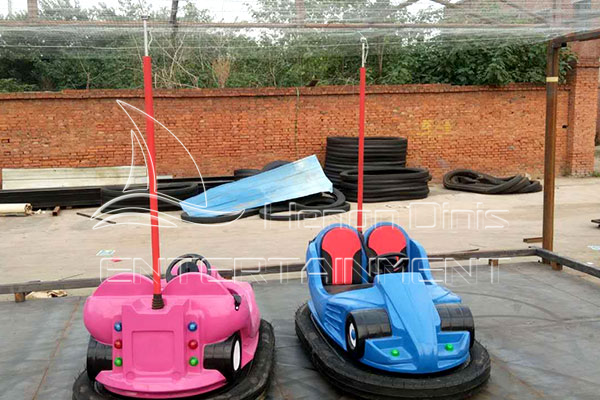 4. Try to empty your child's urine
Riding baby bumper car is a fierce sports event. If the child is young, it is easy to pee in pants when excited. Therefore, it is necessary to let him empty the urine in advance.
5. Remind the child to grasp the steering wheel constantly
When playing a kidirace remote control rc bumper car, sometimes you can't control the direction of the car. At this time, you must grasp the steering wheel in case you are hit by someone else, or you will be easily knocked over.
---
The new evolution of bumper cars for toddlers in Dinis
Now Dinis manufacturer has developed new kids bumper cars for sale. There are spongebob styles, Thomas style, UFO style, tiger style, Superman, small cow shape and many other styles. These are the new evolution of kiddie bumper cars. Welcome to our company to purchase.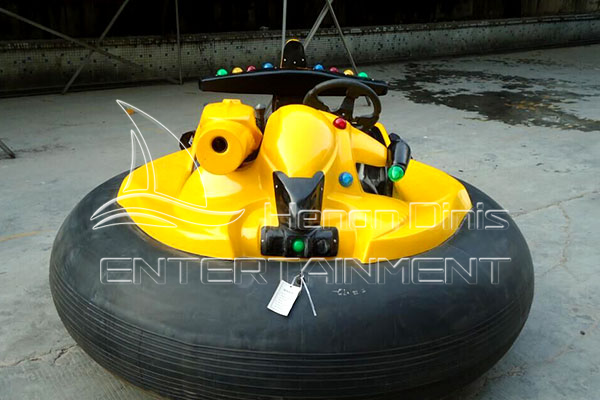 ---
How to start a good business with bumper cars for toddlers?
As everyone knows, operating a single kind of bumper cars for toddlers isn't very effective. Children love to play and move, and a single kind of bumper car for kids can't attract children's attention for a long time. Therefore, bumper cars for children should be with other amusement equipment, including kids merry go round, trackless train ride, small ferris wheel, swing carousel, etc.. As a result, it will be profitable. Merchants can place other small children's play equipment on the periphery of fairgrounds such as cake battery cars, leswing cars, drift cars and so on. Dinis supplier can produce a variety of amusement equipment for your choice. So welcome.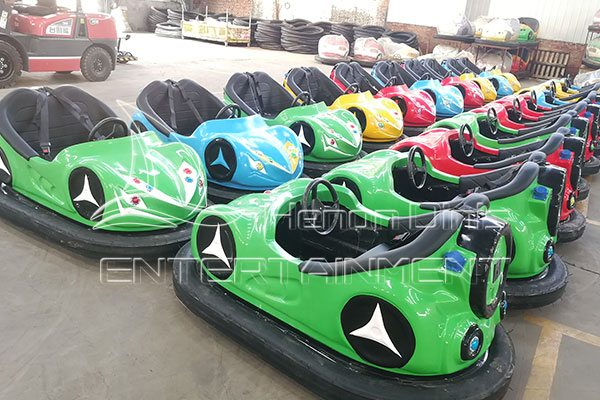 Cute animal bumping car specifications:
Place of origin: Henan, China (Mainland)
Brand name: Dinis Amusement Equipment
Material: FRP+steel
Name: Kids ride
Color: Customized
Product name: Children playing dodgem bumper cars
Type: Amusement equipment
Size: One or two persons
Usage: Playground, funfair, theme park
Warranty: 1 Year
Our bumper cars for toddlers work fine and are technologically advanced. The outer surface is made of integrated FRP material, which is durable and bright in color. The body is decorated with dazzling lanterns, which are particularly eye-catching at night. The ergonomically designed seat is very comfortable for people. We offer customized services, including red, yellow, blue, green and other baby bumper cars for you to choose.
You will be thrilled when you meet your friends riding on bumper cars and hit your friend on the bumper car. So is your own child. Take your children to ride on bumper cars for toddlers and have fun with your family today.
---
The parameter reference of battery-operated bumper cars for toddlers
| Name | Material | Applicable Venue | Target User | Delivery | After-sales Service |
| --- | --- | --- | --- | --- | --- |
| Battery bumper car | Steel,FRP, rubber, leather, etc. | Squares, playgrounds, parks, shopping malls, etc. | Suitable for all ages (children need to be accompanied by an adult) | 5-20 days | "Three guarantees" of products for one year, lifetime maintenance (excluding wearing parts) |