Zhengzhou Dinis Amusement Equipment Company is a large-scale manufacturer with 20 years experience in the manufacturing carousel amusement equipment. Our company's carousel fun rides for sale are various. Now we have many themes carousel fun rides for sale, and we can customize carousel fair rides for sale according to your requirements. What's more, our carousel rides for sale use best FRP materials as appearances' materials, and Q235 steel as carousels' frames. So you can trust that our carousel merry go round rides are high quality. Moreover, our merry go round rides' color are bright, and merry go round rides have many LED lights and beautiful decorations on the appearance. So our kids fun rides-carousels become an "internet celebrity" of amusement rides, which attracts more children.
---
Those factors affect how much kids fun rides-carousels cost
1.The size of the manufacturer determines the cost level
The size of the manufacturer also largely determines the difference in the selling price of the kiddie amusement equipment-carousels. Factory rent, numerous workers' wages, and various expenses are definitely in the price of children's carousel rides. Therefore, the prices of big fun rides manufacturers are relatively high, the small scale is small, and the price is relatively low.
2.The choice of materials determines the cost price
In addition to the production process, the quality of carouels children rides are basically determined by the quality of steel materials and electrical components, and the materials selected also determine the difference in cost.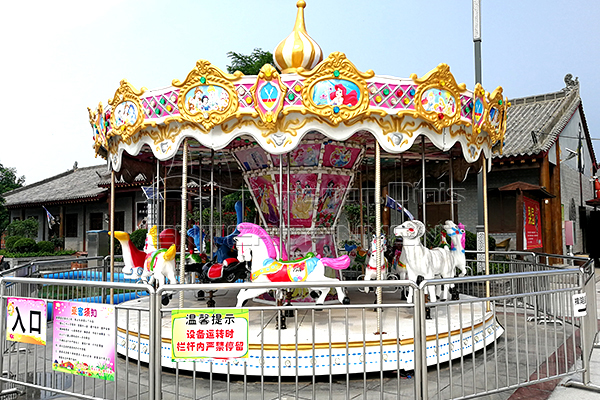 3. Carousel manufacturing process is very different
It's a time to look at the face, the same is true for kids fun rides-carousels. The production process of carousels is mainly reflected in the polished paint and iron frame structure of FRP, which requires workers with good craftsmanship, which in turn increases the manufacturing cost.
---
How many themes about funfair carousel rides in Dinis?
In Dinis, you can buy many themes carousels amusement rides with differernt capacities. As a professional carousel manufacturer, Dinis designs and produces many themed merry go round rides for sale every year.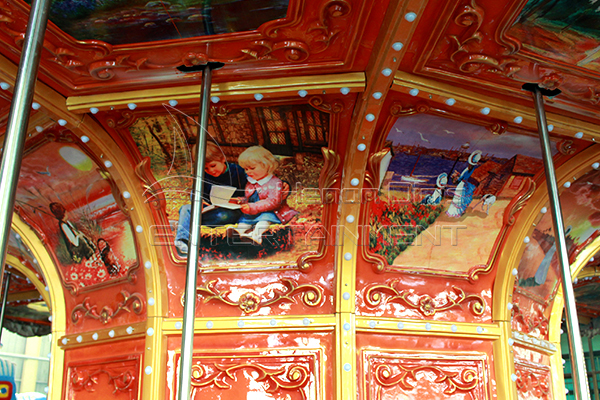 From capacities, we provide you small 3 horse merry go round, 6 seats merry go round for 3-5 years old kids. And 16 seats carousel, 24 seats merry go round for 5-18 years old yong people. 36 seats merry go round, 48 seats carousel rides for adults.
From themes, we design carnival carousel ride, Christmas santa carousel, sea carusel for sale, small kiddie carousel for sale, fair carousel, and so on. Besides, we also provide you other themes merry go round, including mobile carousel, coin operated merry go round, antique carousel, amusement park carousel, mini carousel for sale. So if you are interested in our carousels, you can contact with us.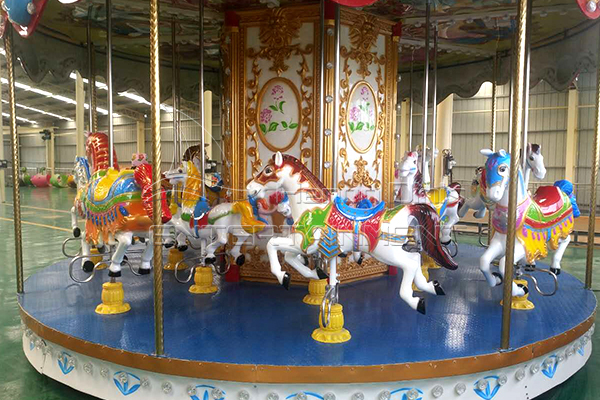 ---
Why carousel rides are good for children's growth?
1.Carousels kids carnival rides have a good safety. The safety mentioned here includes high quality, no harmful substances, and shape safety. The safety of carousels for toddler is the most harmful aspect of children's growth.
2. Merry go round fairground device. can cultivate kids' curiosity. For the growing children, all aspects of their body and mind are changing dramatically. What's more, their curiosity is extraordinarily strong. Therefore, merry go round rides that can be expanded in an unlimited way is undoubtedly very satisfactory. Children's different curiosity arouses their rich imagination.
3.For kids fun rides-carousels, it is the best to have the characteristics that can be rided by many people one time. In this way, children can enjoy the joy of riding carousels with their friends. It's extremely beneficial about cultivating children's communicative ability from childhood and learning the teamwork.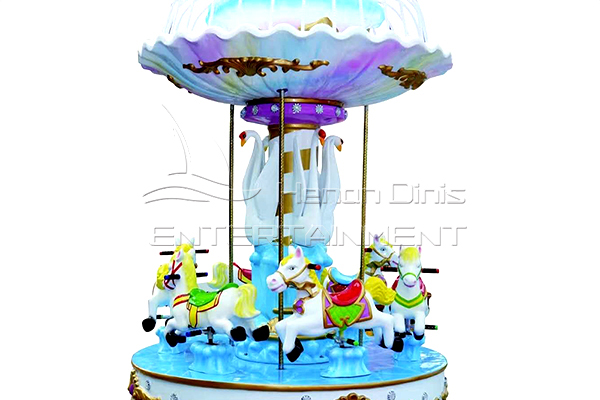 4.If you buy merry go round rides, you should also pay attention to whether the application method can cultivate children's self-reliance. And whether it is conducive to cultivating the practical operation ability of the practice for toddlers. Besides, good merry go round rides should enable children to play in the dominant position, rather than in the rigid, monotonous operation.
---
How to make carousels near me into the market?
1.The safety of carousel horse rides
First of all, the carousel carnival amusement equipment, small fun rides carousels for kids must be safe. As everyone knows, the carousel merry go round with high safety is highly popular. Children are vulnerable groups that are extremely vulnerable. Therefore, when designing carousel kids ride on car with remote, safety must be given top priority.
2.The detailed designs of Dinis merry go round rides for sale
The popular carousel carnival rides for sale is in place on the workmanship details, so the details of the children's merry go round rides are also very important. The kiddie carousel rides must not have dangerous projections and squeezing points, especially sharp edges.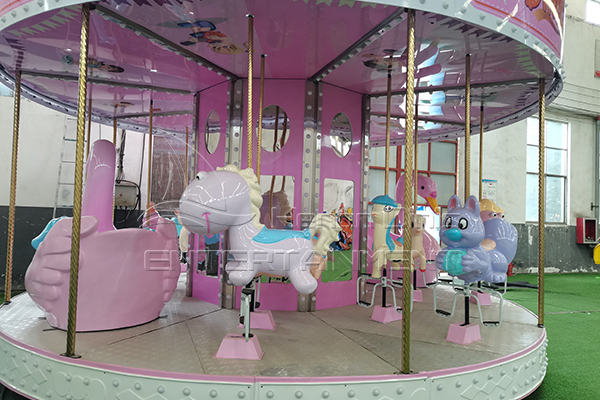 3.In line with the market
The new themed carousel for the purpose of serving children is also very popular. Because the carousel horse amusement rides are main for children, the design needs to conform to the child's physical characteristics. And also take into account factors such as the height of the child and the range of activities of the child.
4.The diversity of carousel fair rides
The educational and recreational meaning for children is also very important. Considering the diversity of children's activities, as well as the psychological needs and interests of children, the merry go round funfair rides for sale can allow children to learn knowledge during play and improve the development of intelligence and brain power.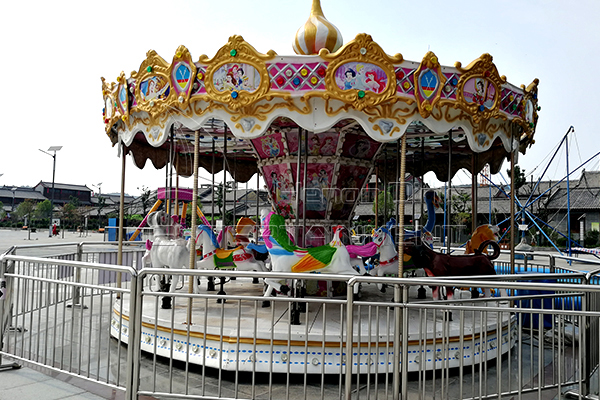 ---
Where to buy the carousel fun carnival rides?
You can buy the kids fun rides carousels from Dinis. Dinis Amusement Equipment Company is a professional manufacturer, supplier and wholesaler in China.
What's more, Dinis provides a full range of services for amusement park investors. The services include amusement park project, investment analysis report, amusement park project overall planning and design plan, amusement park project product plan, amusement park products after-sales service, amusement park operations and management programs.
After 20 years of stable development with 20 years of experience in the production of carousel fun rides, Dinis has become the most powerful small and medium-sized carousels amusement equipment manufacturer in China. What's more, We have sold our merry go round to more than 60 domestic and foreign regions. For example, about domestic market, our carousels have been sold to 30 provinces, municipalities and autonomous regions except Tibet. About foreign market, Dinis have exported carousel rides to Europe, the United States, Australia, Central and South America, the Middle East, Southeast Asia, Africa and other more than 60 countries and regions, and won the praise of customers.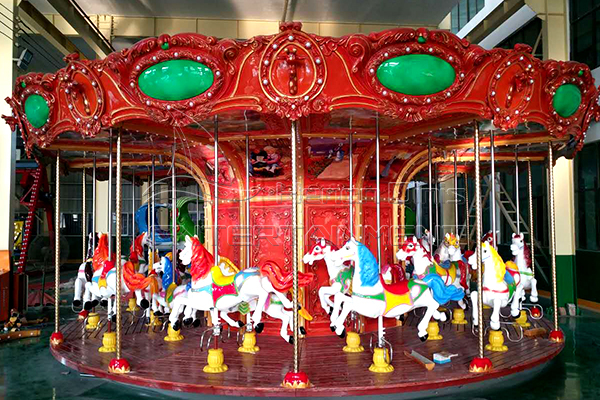 On the other hand, Dinis have more than 100 kids fun rides. About products, Dinis has 8 categories and more than 100 kinds of large, medium and small mechanical amusement products, including trackless train, bumper car, cup rides, swing rides, track train, roller coaster, sightseeing car, go kart, ferris wheel, indoor playground, and so on. We can use These funfair rides in large and medium-sized amusement parks, children's amusement parks, parks, indoor and outdoor playgrounds, shopping malls, scenic area, indoor, outdoor, etc. The last but not the least, about team, Dinis have more than 100 professional engineering, design, e-commerce, foreign trade personnel. So of you want to buy carousels to start your business, you can choose us.