Contents:
Introduction to the carnival teacup ride
Recently, with the development of society, people's living standard is improved. So many adults will choose to go to the amusement park with their kids to enjoy life. As we all know, there are many funfair ride on the park, such as bumper car, Ferris wheel, pirate ship, trackless train ride, roller coaster, carousel, teacup carnival ride, self control plane, flying chair, etc. These fair rides are popular among kids and adults, so adults always ride on them together with their children. When the carnival teacup ride rotates, parents and kids will have a thrilling and exciting feeling.
Carnival teacup ride is one of the popular funfair rides. In addition, it is also called coffee cup ride, spinning cup ride. The carnival coffee cup ride is a typical thrilling ride for kids. So it becomes more and more popular in the amusement park. Moreover, our company designs many styles: carnival tea cups, animal teacup ride, kiddie cup ride, classic spinning teacup, and so on. So you can choose our company to buy carnival coffee cup ride.
---
How do carnival teacup rides work?
Teacup ride carnival is an amusement ride, and it is mainly composed of a large turntable, a small turntable and many cups. Then, there are many small turntables on the big turntable, and many cups on each small turntable. However, the cup is the passenger cabin. In addition, the cup rotates around not only its own central axis, but also the center of the small turntable. At the same time, each small turntable rotates around the center of the large turntable.
Besides, our carnival tea cup ride has an electric control box, so you can easily control the speed, running time of teacup ride carnival ride. What's more, the electric control box provides power for tea cup carnival fun ride. In addition, if you are a new tea cup carnival ride's businessman, we can provide you a teacup carnival ride manual. So you don't worry that how carnival teacup rides work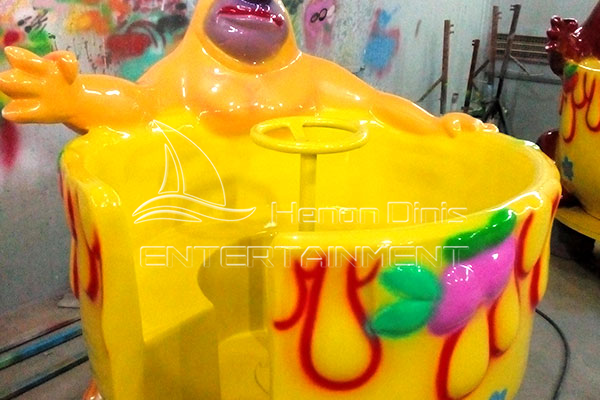 Carnival 6 cups tea cup ride specification:
Product name: tea cup ride for sale
Capacity: 24 persons
Applicable people: all ages
Material: FRP, steel, famous paint
Color: white, blue, red, pink, colorful…or customized
Diameter: 8 m
Guarantee: 12 months
Lead time: 15-20 days after deposit of amusement carousel rides
Usage: Theme park, playground, funfair, etc.
---
Some issues of teacups for carnival rides for sale that you concern
How many people can fit in a teacup carnival ride?
When it comes to tea cup carnival ride for sale, you will want to know how many people can ride on it? There are 3 cups, 4 cups, 6 cups, 9 cups, 12 cups, and customized cups for you to choose. Generally speaking, there are 4 people on one cup. So the capacities of carnival coffee cup are 12 people, 16 people, 24 people, 36 people. Certainly, if you have a small area to put the carnival teacup fair ride, you can buy the 3 cups. But if you have a large area, we suggest that you buy 12 cups. Because the large one has a large capacities, many players can ride it one time. Then, the large carnival cup ride makes you earn money quickly.
How big is a teacup ride carnival?
You must want to know that what size is a teacup amusement ride carnival? The carnival cup ride with different capacities has different area size. For example, tea cup for carnival ride with 6 cups. Its turntable diameter is 8 m and its total height is 3.5m. Besides, it has 25m fence, so you must know about its area size when you buy. You should choose a suitable cup carnival ride for your place. However, if you want to customize suitable teacup carnival ride for your area, we can provide you a customized service. So you don't have any worry about carnival cup amusement ride's size.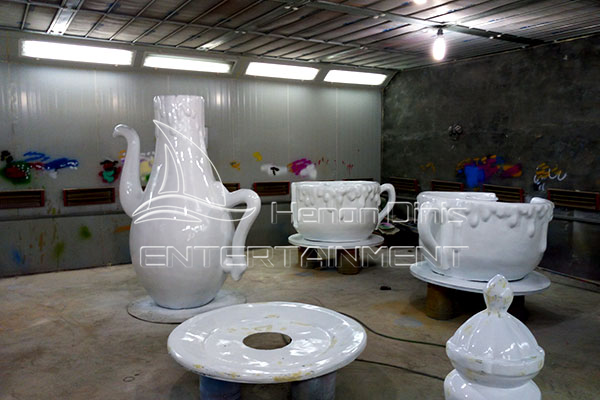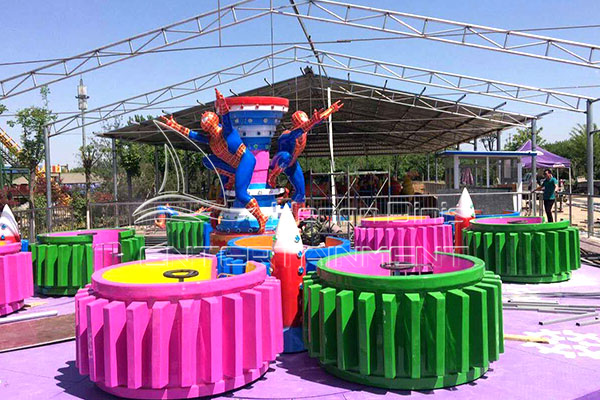 ---
Carnival Amusement Tea Cup Ride's Specification:
| | | | | | |
| --- | --- | --- | --- | --- | --- |
| Capacity | Cup Quantity | Area Size | Height | Power | Voltage |
| 24 persons | 6 cups | 8m diameter | 3m | 4kw | 110v/220v/380v |
| 36 persons | 9 cups | 10m diameter | 3m | 10kw | 110v/220v/380v |
| 48 persons | 12 cups | 13m diameter | 3m | 13kw | 110v/220v/380v |
---
Why to buy teacup carnival ride in our company: Dinis?
When you decide to buy carnival tea cup ride, you can choose our company, Dinis. Because Dinis is a reliable and professional amusement rides manufacturer, we produce not only high quality teacup rides in the carnival, but also carnival fair rides: bumper car, train rides, Ferris wheel, carousel, swinger ride, pirate ship, inflatable castle, etc. What's more, we have 20 years production experience. And we use best production technology and best FRP material to make our carnival spinning cup rides
We have enough production experience and professional production technology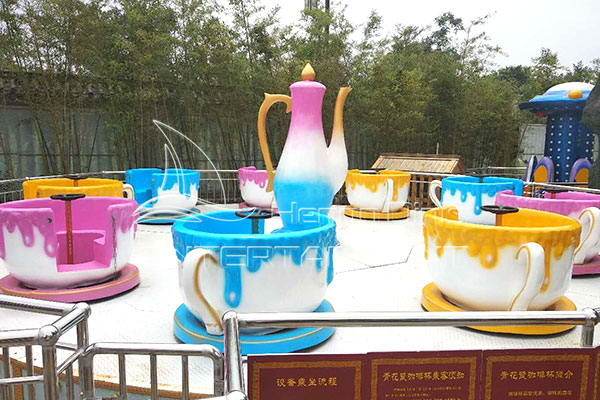 Due to our company has built over 20 years, our company has enough production experience on teacup carnival amusement rides. Certainly, the experience isn't depended on the long or short time of company building, but depends on the coffee cup carnival ride orders every year. Recently, we receive many orders about carnival tea cup rides, carnival bumper cars, carnival carousel, pirate ship, Ferris wheel, train rides and so on. So we have enough production experience. Besides, our workers are trained by professional person, and they seriously control every production processes. For instance, our painting are 8 processes. So they carefully check every painting processes to make sure coffee cup carnival rides high quality.
We use the best materials to make the fun cup ride for carnival.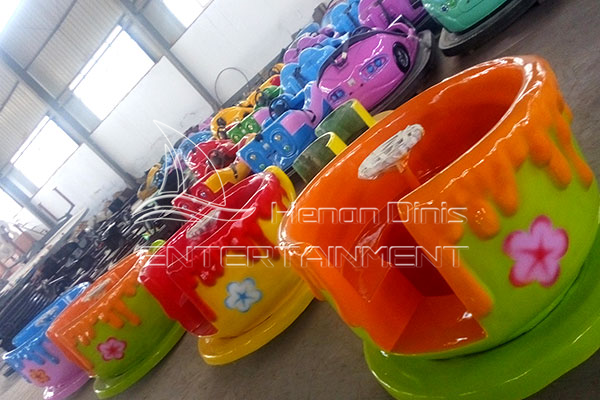 We use best FRP material to make cup carnival rides. Because the FRP is a new material to make fun rides, and it has many advantages. For instance, its advantages: anti-water, anti-corrosion, bright color. When our teacup carnival rides' appearance is made with FRP material, the teacup for carnival ride has a long life time. When you use it in many years, you will find that it looks like a new one. After all, our workers combine one layer FRP and one layer other materials, and they totally combine 8 layers FRP. So our carnival coffee cup rides' quality is high, color is bright. Furthermore, we also use other materials: best Q235 steel, 3 trees paint to make spinning cup carnival classic rides.
---
Two best occasions to use our tea cup carnival rides
You can use carnival tea cup ride for sale in carnival
When the carnival of your country is coming, many people will have a good time in the carnival. So our company designs the tea cup for carnival, it is an attractive thrilling fair ride to increase the carnival atmosphere. Additionally, the carnival teacups' cup has a bright and attractive appearance, colorful cup-like seats, and the center has a teapot. So it likes a real large tea cup. when players ride on it, they will feel fresh. Besides, its cup space is enough for four-person family, so many family wait to experience its fun. Furthermore, if you want to start your business well in the carnival, you can buy carousel, ferris wheel, self control plane, bumper car, carnival swing ride,etc.to expand your business. However, if you have a garden in your backyard, you also buy small coffee cup ride for your kids and their friends.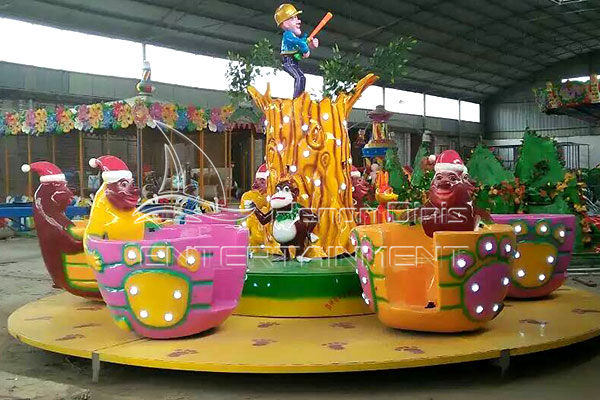 Christmas day is a best occasion to use carnival tea cup ride for sale
As we all know, Christmas day is a great festival in the west. So when the Christmas is coming, many people will hold an activity to celebrate the Christmas. At this time, we will see that many kids gather on the amusement park for their Christmas. Maybe the best way for children to celebrate the Christmas is that they can freely experience all kinds of funfair rides, such as swing ride, teacup carnival ride, carousel, roller coaster, and so on. When i was a kid, i also wanted to play in the fairground. So you buy carnival spinning cup, bumper car, carousel for your park, you will quickly make more money in the Christmas.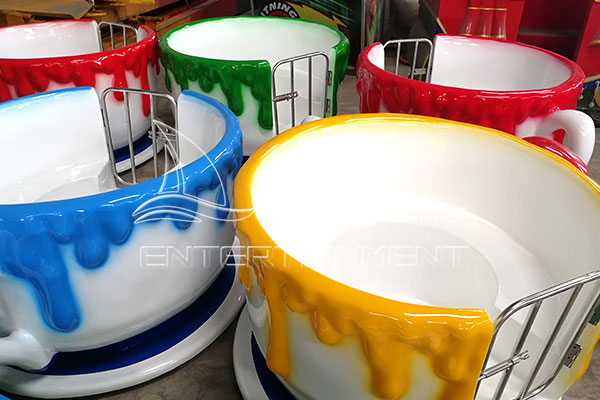 Certainly, if you want to buy a small amusement ride as a gift to your kids, it is very cool. Many children like tea cup ride, train ride, carousel, flying chair, etc.. So if you buy small one as gift for your children, they will very happy. Totally, our carnival cup ride can be used not only as making money tool, but also as a gift for kids. If you are interested in our tea cup ride carnival or other fun rides, you can feel free to contract with us.