Which places to use our indoor train ride for you?
Our train rides indoor for sale are used in the shopping mall
Our indoor common trains are train rides used in the shopping mall. Recently, with the changing of living standard, some cities build big shopping malls for people purchasing and entertainment. So it is a good chance for you to make money with some indoor train fun rides at this time. When shoppers have walked in the shopping mall for a long time, they feel tired. So they will continuously choose to ride indoor trains to go shopping. In addition, you can buy some train amusement indoor rides. Then, you hold some indoor activities for kids with train rides to attract customers, because nobody can refuse to ride train rides indoor, especially children.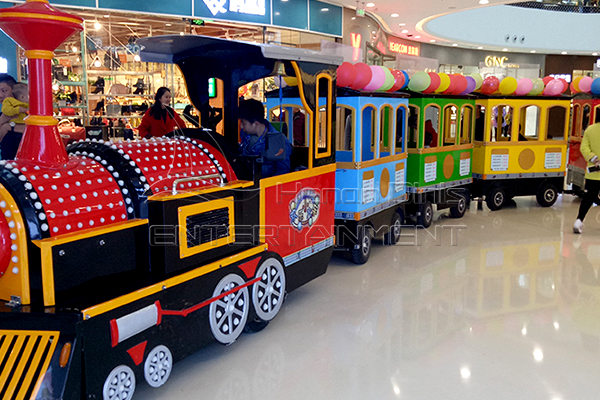 ---
Children indoor playground uses indoor trains for commercial use
Children indoor playground is a best place for 3-10 ages kids to play, so hundreds children play in the playground everyday. In the indoor playground, parents don't worry kids safe and whether weather is hotter or cooler. Certainly, 3-10 years old kids want to try more and more amusement rides with their friends, so they don't want to leave the place. Overall, kids like to ride the train ride indoor, you will make more money by a train in the children indoor playground. For example, one child play once for 10 minutes for $5, and you will get a gross profit of $500 per train ride per 100 people every day. However, there are many children to ride trains every day, so you will earn more.
To sum up, you can use our indoor train set for sale not only in shopping mall and children indoor playground, but also any places that you want. Besides, if you want to expand your business, you also buy indoor bumper car and small carousel, small inflatable castle, kids tea cup ride, small swing ride together with indoor trains.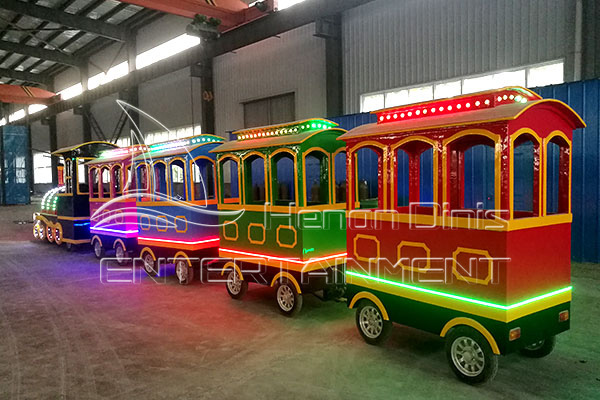 ---
Electric indoor train set for sale: the best choice for your indoor business
Our indoor amusement train rides for sale have two driving ways: electric and diesel. But indoor train rides for sale are usually electric indoor trains for all ages. Because indoor electric train rides don't generate air pollution gases, they are more suitable for indoor. On the contrary, diesel train amusement rides are suitable for outdoor. As we all know, electric train rides indoor must comply with a standard, if the train indoor make some air-pollution gases, it can't be used indoor. Moreover, our electric indoor trains use batteries without air pollution. So you can use them to start your business indoor without hesitation.
In addition, our electric train rides indoor have different capacities for you to choose. But if you use it indoor, we suggest you to choose 8-10 seats or 12-16 seats small indoor train amusement ride due to its low price, small scale and controlling conveniently indoor. Beside, if you have a large area indoor, you can also buy electric bumper cars, new design carousel, small swing carousel to attract more children.
---
Top 3 selling indoor train rides for sale in Dinis 2023
There are so many different themes of indoor amusement train rides, including Thomas train ride indoor, elephant riding track train, Christmas Santa train indoor amusement ride, caterpillar train attraction indoor, ocean animal train indoor, indoor vintage train set and so on. If you want to customize special train rides rather than those hot selling products, we can provide you customized trains.
Top sale one: Thomas indoor train set for sale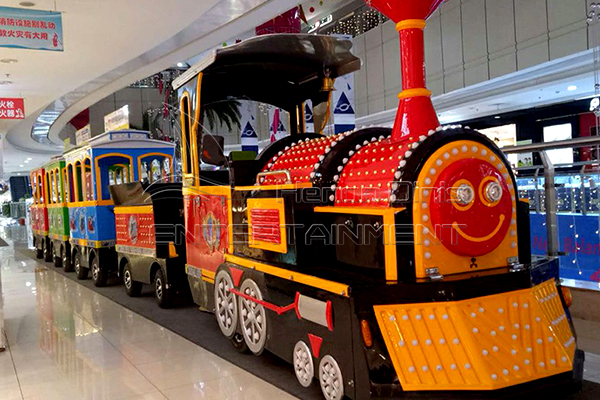 Specification of indoor electric Thomas train:
Name: Thomas electric train indoor
Material: FRP+steel
Capacity: 14 seats (you can customize)
Batteries: 5pcs 12v 100A
Composition: 1 locomotive+3 Cabins
Locomotive size: 2.1*1.1*2.7m
Cabin size: 1.7*1.1*1.95m
Turning radius: 3m
Color: customize
Door/Window: customize (closed; semi-closed)
Thomas indoor train has a cute and round appearance with big eyes, and its every cabins have colorful lights and popular music. So Thomas indoor train ride for sale catches kids' eyes well, and children have a good time by sitting on the train. Because Thomas is a classical image in the cartoon, 3-15 years old kids have more interests to ride it. For example, when children are bored in the indoor park. At this time, you drive the Thomas train indoor ride passing by them in the indoor park, children are excited and can't wait to ride the Thomas indoor train. Indoor Thomas train ride mentioned above is a trackless train. But if you want to a Thomas indoor track train, our company also have the Thomas indoor track train.
---
Top sale two: Elephant riding track trains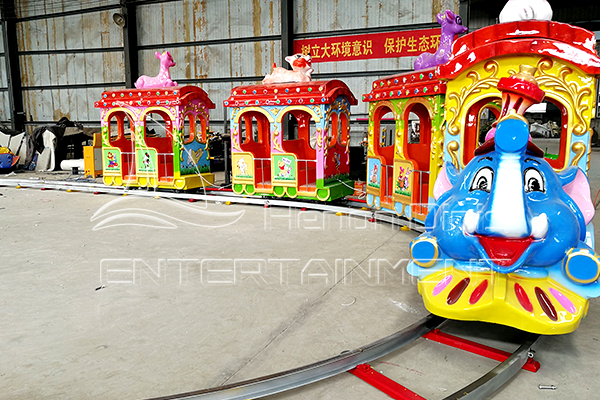 Specification of indoor elephant riding track train:
Name: indoor elephant riding track rain
Material: FRP+steel
Capacity: 12 seats (you can customize)
Voltage: 380v
Area size: 14*6m
Composition: 1 locomotive+3 Cabins
Speed: 3-7r/m or adjustable
Music: USB port or CD card on control box
Color: customize
Cabin size: customize
Generally speaking, you can't use track trains indoor, but you use small elephant riding track train rides indoor. Although elephant riding track train needs to lay a track, it occupies small area indoor. Moreover, you can easily dismantle and install it at any time. Besides, kids get a new amusement ride experience by sitting elephant riding track trains indoor. So when they meet the train with their friends next time, they can tell friends their riding experience proudly, which will build their self-confidence in exploring new things.
---
Top three sale: Christmas Santa indoor train ride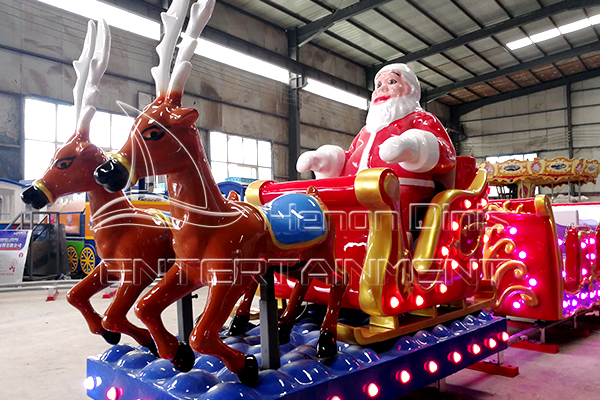 Specification of indoor Christmas train:
Name: indoor Christmas rain
Material: FRP+steel
Capacity: 16 seats (you can customize)
Power: electric
Applicable people: all ages
Size: customize
Composition: 1 locomotive+3 Cabins
Speed: adjustable
Music: USB port or CD card on control box
Color: customize
You can use Christmas Santa train amusement ride indoor to attract people in indoor or outdoor areas, because it is one of our hot selling products. When you use Christmas train rides to hold an activity indoor, those trains help you increase activity's lively atmosphere. But if you hold a large activity at Christmas, you also use our Santa carousel with train rides. Then you can sell more goods to make more money in the lively activity. Certainly, Christmas train indoor rides can bring you more benefits than what you think about. Besides, after holding an activity, you can also use our Christmas Santa indoor trains to attract customers or rent the trains to others for earning money.
Those themes indoor amusement train rides above mentioned are made trackless trains and railway trains, and trackless train sets and rail train sets have different advantages. So you can choose indoor trackless train or indoor rail train sets according to your need. No matter where you use those themes indoor train sets for sale, those trains can bring you more benefits.
---
Why to choose our company to purchase train ride indoor?
When you find indoor train set companies near you, you won't forget our company, Dinis, which provides all kinds of high quality fun rides for you. But why can more clients to choose our company?
1. We use best materials to make the indoor amusement train set
We use the best materials to make indoor train ride. For example, FRP(Fiber Reinforced Polymer) is one of our using materials. It is a high-performance material formed by mixing fiber material and matrix material (resin) in a certain proportion. What's more, we use GFRP, one type of the FRP, to product our train amusement rides.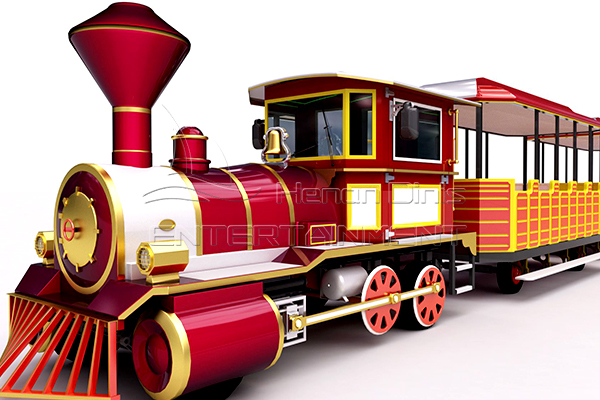 We use GFRP because it has some following advantages:
Firstly, it has high tensile strength and the tensile strength is generally 2 times or even 10 times that of steel bars.
Secondly, its product elastic modulus is small, about 25%~75% of ordinary steel bars.
Thirdly, it can reduce the weight of the structure and its weight is generally 20% of that of steel.
Fourthly, it has good corrosion resistance and good fatigue resistance. So you can use it for a long time in acid, alkali, chloride salt and humid environment.
In addition, it has low thermal conductivity, about 1.25~1.67 KJ/(m·h·K) at room temperature, which is only 1/100~1/1000 of that of metal. So it is an excellent thermal insulation material.
---
2. Using dual line brake system of our indoor train rides
We use dual line brake system: Automatic air-cut brake and oil brake for people safety. We choose two types brake systems, because air brake and oil brake have good advantages. For example, air-cut brake has good heat release effect, a wide torque control range with torque ratios from 1:15 to 1:880, a long life, high safety factor and easy maintaining.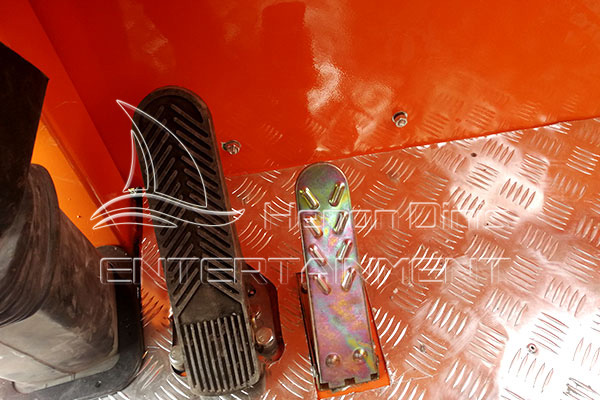 Indoor mall train ride with dual line brack system
However, we also use the other brake: oil brake to control our indoor trains for double insurance. We use hydraulic disc brakes, one kind of oil brakes. Because its characterizes are good braking effect, good feel and sensitivity, we use it to control train rides easily and safely. When you use automatic air-cut brake and oil brake to stop the train, all tires brake at the same time. So our train with dual line brake system can ensure people safety well. Additionally, our carnival fun rides, kids fun rides, thrilling fun rides, classic fun rides also use best brake system to sure people safe.
---
3. We provide you best design services
When you buy a train amusement set indoor, you don't worry about the distance between you and company. Now, the express is very convenient all around the world. So you should care about the quality of products, company strength, good pre-sale service and after-sale service.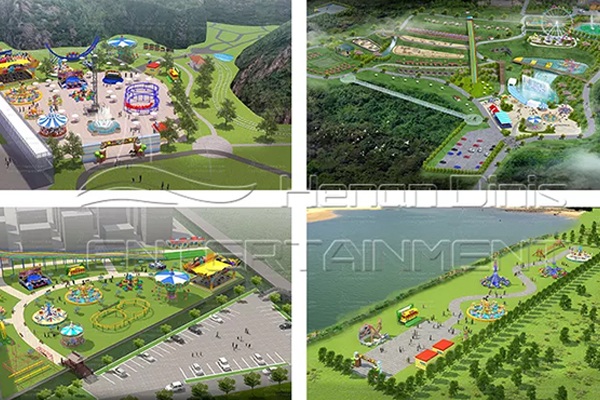 CAD design picture
 When you want a CAD design to plan your areas, some companies don't provide you design service. As long as you buy their train rides, they will provide CAD design. But our company with a skilled designer can provide you free CAD design. As long as you provide your size of your area, we give you some advice to arrange amusement rides that you buy.
Totally, above mentions are the causes of clients choosing our company. However, due to we have our own characters in materials, braking devices and design services, many clients decide to buy other trains and other amusement rides again.
More and more clients choose our train sets indoor for commercial use. Besides, our clients in Australia, in Tanzania and in Nigeria have given us some good feedback, and decide to buy our other amusement rides again. So the first step of your success is choosing our company and building a cooperative relationship with us. Our other amusement rides include Ferris wheel, bumper car, trampoline, swing ride, go kart, coffee cup, pirate ship, carousel and so on. If you are interested in our indoor train ride for sale and other amusement rides, now we can give you a discount.